Genie Plus Travel Mobility Scooter Automatic Folding
Sale price
$6,332.00
Regular price
$10,553.00
Do you enjoy taking a vacation and arriving at your destination via ship or plane? This Ausnew Genie Plus Travel Mobility Scooter Automatic Folding has an MSDS Flight Certificate and is recommended by cruise companies, so you may take it on an airplane or even a cruise ship with you. The best part about this item is that it only takes one click to fold it.
The Ausnew Genie travel mobility scooter is a unique mobility device, designed to give the best user experience. The Genie is a fully automated electronic scooter, which easily folds and unfolds when required.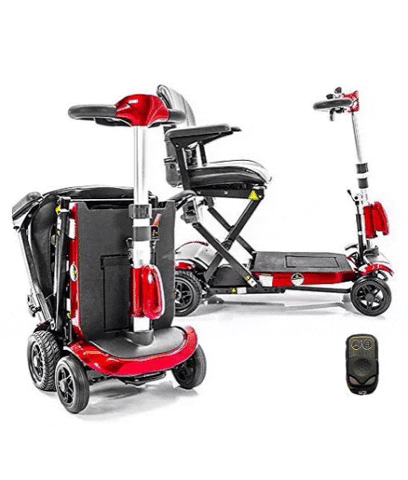 Users can easily maneuver with convenience with its special remote control operation. Equipped with a standard lightweight Lithium battery, the scooter allows a maximum weight of 136kg.
The scooter is also easy to store and can fit into a hatchback for transportation. The airline friendly Genie is fully obedient and within regulations for its Lithium-Ion dry cell battery.
This exceptional mobility scooter is a great way to easily transport yourself with convenience.
Features:
Take it with you on your overseas holidays, it's only 25 kg and it would be approved by the airlines as a wheelchair and won't affect your luggage allowance. (Lithium Batteries now have MSDS Certificate which makes them safe for flight).

✔️ Recommended by cruise lines
✔️ Lithium Battery weight is 2.2kg
✔️ Ramps not required 
✔️

 

Automatic folding/unfolding using a remote control
✔️

 

Able to automatic fold/unfold using the fold/unfold switch at the
back of the scooter in the event, the remote control runs out of
battery
✔️

 

Can be manually folded/unfolded easily in the event both the
remote control and scooter run out of battery
✔️ Fits in any trunk
✔️ Lightweight, easy carry
24 V/10 AH lithium battery allows traveling up to 15 km with the option
of spare battery to travel up to 30 km
✔️ Ideal and approved for airline travel


 FREE & FAST DELIVERY | 2-7 Business Days Australia Wide
⭐ 1-Year Warranty on Frame, Electronics, and Motor
⭐ 6-Months Warranty on the Batteries


---
Customers Also Bought