Angled Pommel Wedge Cushion
The Ausnew Theramed Pommel Wedge wheelchair cushion is designed to help prevent wheelchair users from sliding forward.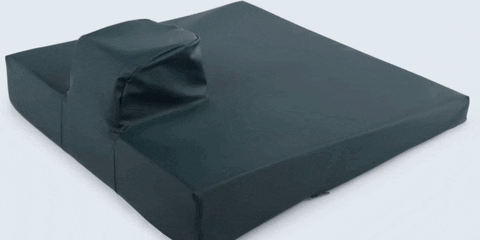 The wheelchair support has a firm core to help reduce pressure from the hammock-style seats and the high-density foam will provide increased comfort and stability. 
The Pommel Wedge cover is moisture resistant, easy to clean, and a comfortable stretch fabric called Steri-Plus. 
This wheelchair wedge is an affordable and sensible option for those that require the certainty that they will not slip forward. 
Key Features:
✔️ Firm foam core inner will supply long term support and comfort for the user. 
✔️ Medium size to suit most users comfortably.
✔️ Foam pommel prevents sliding by eliminating posterior pelvic tilt.
✔️ High-density foam will increase stability and comfort for the user. 
✔️ Pommel Wedge design with a rounded pommel to prevent the user from sliding forward.
---
Customers Also Bought