Back Form Chair Cushion - Lumbar & Lower Back Support Seat Cushion
Sale price
$133.00
Regular price
$205.00
Sitting all day while working is horrible, it hurts your back a lot specially when you don't have a proper seat position. But with the Ausnew Back Form Chair Cushion - Lumbar & Lower Back Support Seat Cushion, there's no need to worry about back pain because this cushion is designed to provide the best comfort you'll ever need.

The Ausnew Back Form Chair Cushion is a Lower Back Lumbar Support.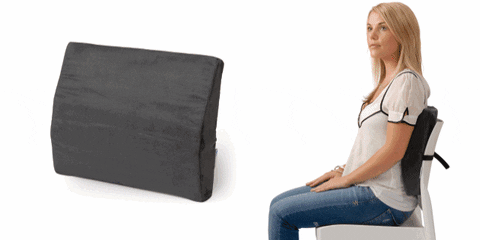 Economical & Ergonomic back support designed to help your posture.
The Back Form Chair Cushion provides snug support for the entire lower back. This lower back support has supportive flanks and tapered back corners purposefully placed to compensate for curved bucket-type seats. 
The lumbar support cushion has elastic straps to firmly fasten it to any chair where you need more back support.
A perfect all-round back support chair cushion that you can take with you wherever you go.
✔️ Supportive flanks support the lumbar area.
✔️ Tapered to fit modern car seat shape.
✔️ Elasticised strap enables attachment to car seat or chair.
✔️ Quality removable Dura-fab cover.
The back support pillow's therapeutic features:
✔️ Designed specifically for people with spinal pain, spine conditions, and disability.
✔️ Assists in the relief of back pain.
✔️ Promotes better posture and correct spinal alignment.
✔️ Portable and lightweight, can be used on any chair anywhere.
✔️ Adjustable elastic strap firmly holds the Back Form Support in any desired position.
✔️ Perfect for use in the car, at the office, and at home.
✔️ Available in two cover options - Dura-Fab & Steri-Plus

Dura-Fab & Steri-Plus material cover options: Most products in the Theramed range offer cover options of the soft and durable fabric Dura-Fab, or the moisture and bacteria-resistant Steri-Plus, and some select products are available in cotton quilting.
Dura-Fab is a stylish woven & washable polyester, while Steri-Plus has a special polyurethane ply (film) bonded to woven polyester fabric.


---
Customers Also Bought