Coccyx Diffuser Chair Cushion - Memory Foam Coccyx Support
Sale price
$138.00
Regular price
$250.00
The Ausnew Coccyx Diffuser Chair Cushion is the best coccyx cushion to reduce pressure on your coccyx & tailbone through the forgiving properties of memory foam.
Help alleviate tailbone pain with this quality seat cushion.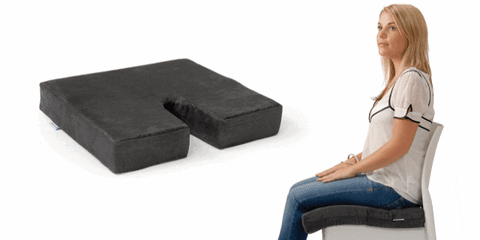 ✔️ Provides pain relief for a bruised tailbone, coccyx pain, or tail bone soreness.
✔️ Orthopedically designed to reduce pressure on the coccyx or tailbone.
✔️ Cut-out suspends coccyx, removing pressure from tail bone.
✔️ Reduce tailbone back pain with the coccyx diffuser.
✔️ Ideal for wheelchairs and conventional seating.
✔️ Optimum pressure relief - diffuses the body's load.
The Diffuser's unique internal core consisting of high-density conventional foam ensures cushion strength and support qualities are retained under continued load bearing.
The internal core combines superbly with the two layers of super-soft memory foam to diffuse pressure and enable the user to sit in comfort for lengthy periods.
---
Customers Also Bought