Complete Sleeprrr Plus - Adjustable Memory Foam Pillow - Medium Version
Sale price
$140.00
Regular price
$215.00
Do you want a neck support that goes above and beyond what your neck deserves? Complete Sleeprrr Plus - Adjustable Memory Foam Pillow - Medium Version is available at Ausnew. This Complete sleeprr is ideal for persons who suffer from severe neck pain, and it not only does that, but it also encourages side sleeping.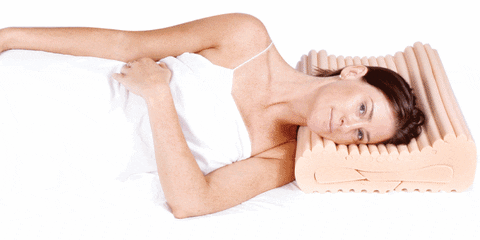 The Ausnew Complete Sleeprrr Plus - a larger memory foam neck support pillow. Slightly firmer feel than the original version.
For broader shouldered individuals and those who prefer a firmer pillow.
A luxurious neck support pillow that features removable foam inserts, giving you as many as 12 simple adjustment options so you can create the pillow that suits your comfort needs.
Benefits of the Complete Sleeperrr PLUS Memory Foam pillow:
✔️ Features 'higher' and 'lower' sides of the pillow as well as contour variance for maximum individual support and comfort for side or back sleeping
✔️ The contoured design encourages side sleeping to enhance breathing and minimize snoring
✔️ Scalloped under-edges allow the shoulder to slip snugly under the pillow for a close-knit fit when sleeping on your side
✔️ Head and neck are properly cushioned and supported during sleep
✔️ Designed to help alleviate and avoid neck and shoulder stress and muscle stiffness
✔️ Memory Foam 'noodles' in core foam surface can be removed to make for an even softer feeling pillow
✔️ Can assist asthma sufferers and others who require clear breathing patterns
✔️ Pillow's contour can help stop snoring by enhancing the airway by encouraging better spinal alignment and side sleeping
✔️ Channels in the core-foam surface, combined with the open-weave inner cover allow air to circulate for a cooler healthier sleep
✔️ Recommended by chiropractors, physiotherapists, osteopaths, myotherapists, and naturopaths
Completely customizable softness to suit your body shape & preference
Users can dynamically change the surface density of the Complete Sleeper Pillow to suit their own comfort needs. For an even softer feel, simply take out the Memory Foam 'noodles' positioned within the channels on the pillow's surface.
If you do remove some or all of them to enhance the initial softness, you can store them for possible later use after natural softening of the pillow has occurred. Each channel can take up to three 'noodles' together, to re-plump support where it's needed most - under your neck!  
 FREE & FAST DELIVERY | 2-7 Business Days Australia Wide
---
Customers Also Bought