Hero Tutor Plus Forearm Walker
Sale price
$540.00
Regular price
$900.00
The Ausnew Tutor Plus Forearm Walker with 4 Wheels can very uniquely be interchanged with rear legs skis.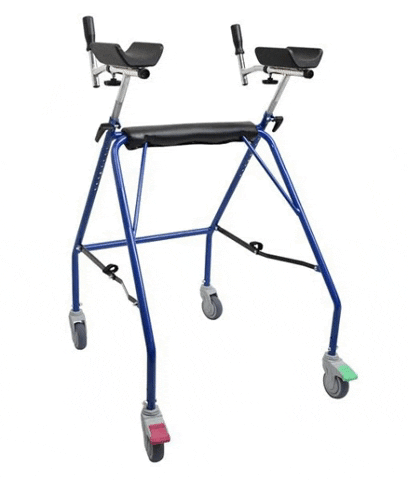 This means our customers – particularly within residential aged care and hospitals do not need to purchase another whole new unit fixed with a wheel/ski design for clients with different needs.

✔️ Comes standard with x4 heavy duty 5" swivel castors – x2 standard at the front and x1 rear locking castor / x1 rear directional castor. The directional castor allows a variety of different clinical benefits – particularly in a Rehab setting.
✔️ Metallic Blue with a non-chip coated paint to allow for longevity in product condition
✔️ Folds for easily for storage/transportation. Loops are featured on the folding hinges to allow a seamless folding process.
✔️ Heavy-duty Vinyl covering on the central frame to ensure the user's fingers don't get caught and pinched during the folding motion of the frame.

✔️ Interchangeable option
✔️ Economic option for streamlined equipment pools in hospitals and facilities.
✔️ Designed to tutor the user into an upright gait.
✔️ High 200kg Safe work Load – Extra Heavy Duty Sturdy Frame.
✔️ Super Comfortable Durable Arm pads 
✔️ Arm pads are studded into the framework ensuring pads remain in position
 FREE & FAST DELIVERY | 2-7 Business Days Australia Wide


⭐ 1-Year Warranty on Brake handle and housing


DOWNLOAD SPECIFICATIONS

---
Customers Also Bought