Lucky One Body Pillow - Best 'Straight' Positioning Pillow
Sale price
$132.00
Regular price
$203.00
Don't you want to be able to get a good night's sleep? With the Lucky One Body Pillow - Best 'Straight' Positioning Pillow, you can now relax like you're on a pluffy cloud, and it also gives superb support while working or reading in bed.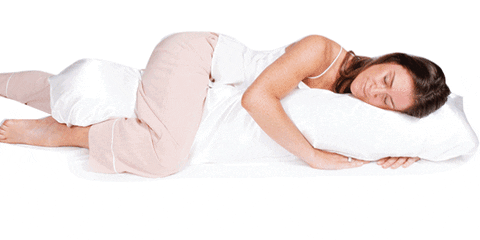 The Ausnew Lucky One Body Pillow is a simple Body Pillow for full-body support featuring Australian made polyester filled body support pillow.
This body pillow is excellent for side sleepers, injury prevention, recovery from surgery, maintaining good spine alignment, and ideal for pregnancy also.
Can be used to cradle up to or cuddle for extra comfort and support or can be used as a bolster behind the body if required. 
The Lucky One will provide relief for hips, legs, and spine while being able to use your conventional pillow on which to rest your head.
The Lucky One body pillow cover is available in either high-quality satin, poly-cotton blend, or 100% cotton and is easily removable. 
The benefits of Satin are to relieve pressure on the face and a super comfortable smooth surface for extra relief. 
✔️ Stops nighttime tossing and turning by cuddling up to this sleeping 'partner'.
✔️ Provides a bolster by putting it against the wall.
✔️ Provides comfort in most positions.
✔️ Support whilst working or reading in bed, on the couch or on the floor
 FREE & FAST DELIVERY | 2-7 Business Days Australia Wide
---
Customers Also Bought