MemoGel Contour Pillow - Cooling Gel Memory Foam Pillow
Sale price
$326.00
Regular price
$465.00
The Ausnew MemoGel Contour Pillow is a contoured Memory Foam pillow with a built-in Cooling Gel layer designed for optimum comfort while you sleep.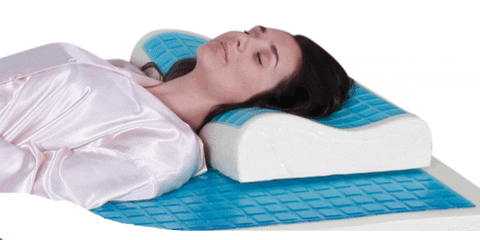 The MemoGel Contour Pillow provides both cradling neck and head support with contoured Memory Foam and cooling comfort relief with a built-in Cooling Gel layer.
The contoured MemoGel pillow helps your body maintain a comfortable cooler temperature whilst sleeping and provides your head with the comfort and support it needs for a restful night's sleep.
The Gel component of the MemoGel pillow disperses excess body heat to generate a more comfortable sleep.
The non-toxic silica gel layer of the pillow cools down the body temperature to a comfortable sleeping level.
In particular, the MemoGel pillow assists with initially getting your body to sleep by creating a cooler surface for the neck and head. 
The contour design gives your neck the proper support it needs by aligning your spine in the optimum position for a comfortable rest.
A cooler sleep improves your rest and regeneration, enhancing your ability to function at your best.
Rather than making you sleep on a cold surface, the MemoGel pillow absorbs excess heat through the gel surface and into the pillow. 
The benefits of a cooler nights sleep:
✔️ Reduction of restlessness and body movement during sleep
✔️ Less disturbance to your sleep
✔️ Improvement in cardio-vascular circulation with body temperature regulating Cooling Gel
✔️Weight: 2.2kg
 FREE & FAST DELIVERY | 2-7 Business Days Australia Wide

---
Customers Also Bought