Natural Lupin Heat Pack - Large Body Pillow Sized Natural Heating Pad
Do you have aches and pains in your muscles? The Natural Lupin Heat Pack - Large Body Pillow Sized Natural Heating Pad from Ausnew may be of use to you. These heating pads are excellent for reducing pain and swelling, and they may also be used as a cold pack. Isn't it incredible? Make a purchase today!
The Ausnew Large Natural Lupin Heat Pack are well presented, segmented lupin heat bags that can be warmed in the microwave to ease arthritic pain & soothe muscular aches, or chilled in the freezer to relieve local pain or swelling.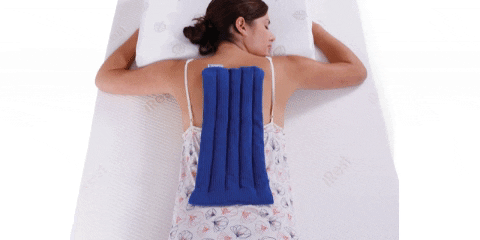 The segmentation helps to keep the lupins static for maximum targeted relief.
The Large Body Pillow Sized Natural Heating Pad is the perfect shape to provide warmth for your entire body.
Like our Body Pillows, the Large Body Sized Natural Lupin Heat Pack comforts your entire body.
For an even better level of comfort and support our body-sized heat packs can be used harmoniously alongside any of our body pillows to give you the best comfort and support whilst enjoying the warmth from heat pack heat therapy.
Totally Natural healing: Lupins are widely regarded as a "low allergy" alternative to wheat and are more resistant to moisture and less weight for more comfort.
✔️ Quick microwave for easy heating. 
✔️ Freeze and use as a cold pack.
✔️ Suitable for all parts of the body. 100% natural cotton corduroy cover.
✔️ 30% lighter than comparable standard wheat bags.
✔️ Handmade in Australia. Made from 100% natural Australian lupins.
✔️ Allergy and odor-free. Not treated with chemicals or fungicides.

✔️ A better product than traditional wheat bags/heat packs. Our lupins bags with their gentle penetrating heat or cold, go deep into the muscles to help nature with the act of healing.

✔️ By simply warming in the microwave or chilling in the freezer, the natural lupins will assist to soothe aches, pains, stress, and hot flushes.
---
Customers Also Bought