Natural Lupin Heat Pack - Rectangle Shape Natural Heating Pad
Sale price
$119.00
Regular price
$170.00
The Ausnew Rectangle Heat Wrap / Natural Heat Bag is an all-natural alternative to relieve aches and pains that's suitable for all parts of the body.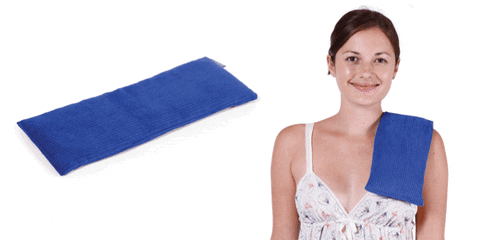 ✔️ Quick microwave for easy heating.
✔️ Freeze and use as a cold pack.
✔️ Suitable for all parts of the body.
✔️ No odour.
✔️ 30% lighter than wheat heat bags/packs.
✔️ Made from Australian lupins.
✔️ Allergy and odour free.
✔️ Not treated with chemicals or fungicides.
✔️ Heat is Longer lasting that traditional wheat bags.
Can be used in many areas of the body. It is probably best suited for full muscle relief along with the calves, hamstrings, arms, and the back of the neck where its length really comes to the fore.
Our lupins bags with their gentle penetrating heat or cold, go deep into the muscles to help nature with the act of healing.
By simply warming in the microwave or chilling in the freezer, the natural lupins will assist to soothe aches, pains, stress, and hot flushes. 
Handmade in Australia from Australian lupins the Therapeutic Goods Administration (ARTG) number is 106788. The fabric is 100% natural cotton corduroy.
Totally Natural healing: Lupins are widely regarded as a "low allergy" alternative to wheat and are more resistant to moisture (to make cleaning easier) and less weight for more comfort. 
---
Customers Also Bought