Sock Aid Helper
Having trouble putting your socks on? Don't be concerned! With the assistance of the Ausnew Sock Aid Helper. This makes it easier to put on socks and allows you to live more independently.
Sock Aid Helper

Restore dignity by allowing complete independence when putting on socks or hosiery. The sock assist opens the sock and positions it to easily glide on the foot without bending down, twisting around or reaching over. Perfect for those with limited mobility and those recovering from surgery or injury.
The Ausnew sock aid helper makes the putting on of socks, hose and compression stockings easier, the sock is stretched over the metal frame, and the foot placed into the sock using the handles to position correctly.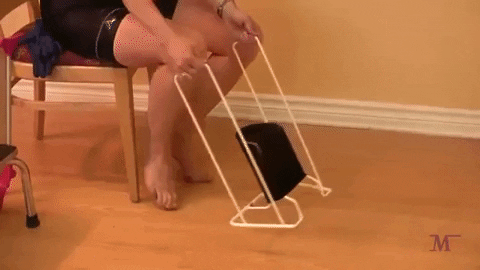 Product Description
Makes the putting on socks, hose and compression stockings easier,

Sock is stretched over the metal frame and the foot placed into the sock using the handles to position correctly.

Dimensions: L205 x W175 x H345m

Features
✔️ A great solution for those who struggle to bend when putting socks/stockings on
✔️ Can be used to put on the majority of socks, stockings, and tights
✔️ Helps to reduce the need to bend when dressing
✔️ Lightweight design.Easy to use. Display Footprint (mm)-190x360x220
✔️ Width of Leg Opening: 100mm. Item dimensions is 350 x 205 x 170 in mm
 FREE & FAST DELIVERY | 2-7 Business Days Australia Wide
---
Customers Also Bought