Wheelchair Threshold Door Ramp 1:8 Gradient
Ramp is a very useful tool to help people with special needs. This ramp glides in with your home with its modern look, also comes with anti slip rubber for a safe ride.
The Ausnew Rubber Ramps for Doorways are Australian-Made Recycled Rubber. The Wheelchair Threshold Door Ramps 1:8 Gradient are made for Safer Wheelchair Mobility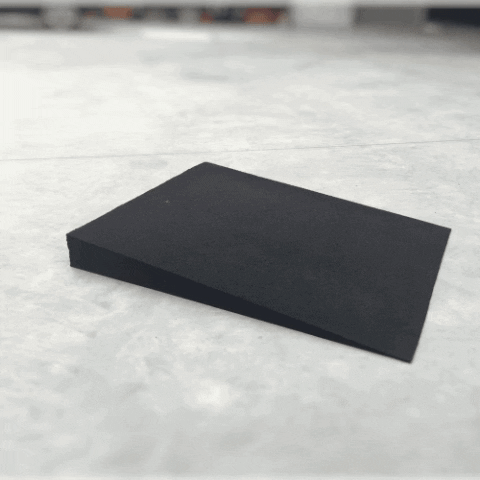 Made with purpose in mind, the Rubber Wheelchair Threshold Door Ramp 1:8 Gradient provides you or with the gift of ease of access.
This Rubber doorway ramp rubber features you utmost stability and a slip-resistance feature that makes movement easy.
In its toughness and durability, the Rubber Ramp creates a smooth transition and surface area for all kinds of wheelchairs, and when it comes to installation, these ramps also have no trouble as they can be used virtually anywhere.
Available in a wide range of heights and depths and also with straight or winged edges. 
Features and Benefits
✔️ Ramp reduces the risk of accidents
✔️ Manufactured in Australia from 100% recycled tyres
✔️ Unit is slip-resistant
✔️ Can be used and installed be installed anywhere
Specifications
✔️ Straight edge ramps are 900mm wide
✔️ Made of tough recycled rubber that's long-lasting
✔️ Available in a variety of sizes
Note: These products are made to order and may have a 1-4 week lead time.
*Made-to-order products are non-refundable.

Email us for custom-made ramps: Support@ausnewhomecare.com
 FREE & FAST DELIVERY | 2-7 Business Days Australia Wide
---
Customers Also Bought