Body Wedge Medium - Natural Body Positioning Aligner Body Pillow
Is your nightly rest ruined by body and back pains - the telltale signs of a bad sleeping posture?
Well, we got your back! This orthopedically designed pillow may just prove to be exactly what you've been looking for!
Introducing the Ausnew Body Wedge support stabilizes the body to prevent rolling onto the back or stomach.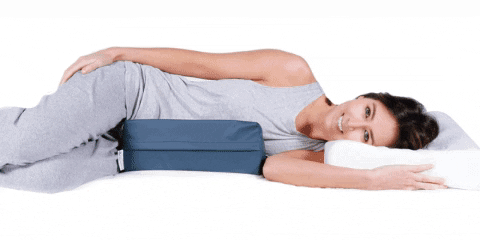 Features:
✔️ Fully adjustable - change the angle from 40° to 25° to 15º. 
✔️ Stabilizes the trunk with support for front or back.
✔️ Reduces sacral pressure to prevent pressure sores.
✔️ Aids in the management and healing of existing sores.
✔️ Under thighs - helps maintain pelvic tilt in pelvic traction
✔️ Promotes proper hip alignment.
✔️ Secure, comfortable, and more stable than pillows.
Positioning Cushion - Body Aligner Wedge - Visco memory foam provides comfort & support
✔️ Multi-purpose: Adjustability eliminates the need for different sizes
✔️ Promotes air circulation for enhanced comfort.
✔️ Ideal for long-term care patients or convalescents.
✔️ Distributes body weight evenly & reduces pressure

✔️ Helps protect the body's pressure points from pressure ulcers (bed sores).

✔️ Supports front or back - reduces pressure on the sacrum. Stabilizes the trunk

✔️ Under thighs - helps maintain pelvic tilt in pelvic traction & promotes proper hip alignment
✔️ Tailored in moisture-resistant bacteria inhibiting (hospital grade) Steri-Plus. Wipes clean for easy care.
---
Customers Also Bought