Cool Gel Memory Foam Mattress Topper
Experience enhanced comfort with this Ausnew Mattress Topper. It features a 7-zone comfort design with an innovative open cell structure for better heat dissipation and yet feels warm at the right temperature.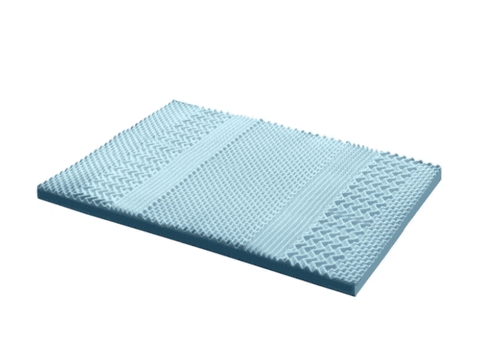 With a high-density, 100% Visco elastic foam filling, the Topper provides a lofty cushion of softness. The highly breathable thick topper is also designed to shape according to the contours of your body for an even weight distribution with over 1000 supporting points.
Not least, the topper is housed in a removable and washable zipped jacquard knitting fabric cover for a premium look and appearance.

Ready to be used right out of the package, simply place the topper on your mattress and it will provide you with a better sleeping surface and pure comfort throughout the night.

Features
✔️ 7-zone contoured design
✔️ 100% Visco elastic memory foam
✔️ 60kg/m3 cool gel memory foam
✔️ 8cm thickness
✔️ Innovative open-cell structure
✔️ Over 1,000 supporting points
✔️ Even weight distribution
✔️ Increases air circulation
✔️ Eco-friendly bamboo fabric cover
✔️ Removable and washable zipper cover
✔️ Dust mite and mold-resistant
✔️ Foldable
✔️ Vacuum packed

Specifications:
Size: Double

Dimensions:
5cm Thickness - 190cmx137cmx5cm
8cm Thickness - 190cmx137cmx8cm

Package Includes:
*1x Memory Foam Mattress Topper
 FREE & FAST DELIVERY | 2-7 Business Days Australia Wide
DOWNLOAD FACT SHEET
---
Customers Also Bought