Copper Arthritis Gloves
Sale price
$41.00
Regular price
$63.00
Do you have arthritis or muscular discomfort in your hand? Ausnew has the cure for you! Copper Arthritis Gloves by Ausnew. This glove soothes discomfort from arthritis or cramps, and it's also a fingerless arthritis glove, so you don't have to take them off while you're doing something.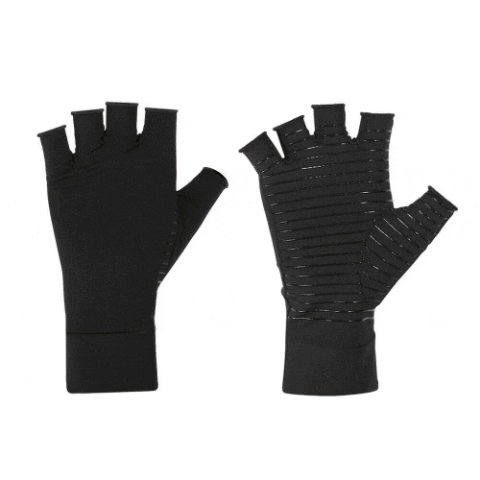 These Ausnew Copper Arthritis Gloves help deal with the common symptoms of arthritis such as cramps, stiffness, and pains. 

These gloves are fingerless so can still perform everyday tasks while wearing them.
HIGHER COPPER CONTENT: Premium Care gloves provide mild compression and warmth that increases blood circulation,
which ultimately reduces pain and promotes healing.

RELIEVES PAIN: Helps stabilise muscle tissue, keeping swelling to a micro level, resulting in reduced pain for you.

ODOUR FREE: Built-in bacteria eliminators


GRIP: Rubber Strips Provide Increased Grip, Perfect for Arthritis, Carpal Tunnel, Gym and Sports.

✔️ Commonly used by people suffering from pain in the hands, Arthritis, Carpal Tunnel, Tendonitis, stiff or sore muscles, tendons and joints etc.
✔️ Fingerless Arthritis Gloves are designed for men and women to help you get the support you need for all day and all night comfort.
✔️ Washable & Hygienic.

Washing Guide: Hand wash only, cold water. Gentle soap. Line dry after wringing. Do not use bleach. Do not tumble dry.
 FREE & FAST DELIVERY | 2-7 Business Days Australia Wide
---
Customers Also Bought