Dual Zone Pillow - Suits Long Necks
Sale price
$151.00
Regular price
$215.00
We're often surprised when our neck hurts when we wake up in the morning, and according to a study, the cause is incorrect head and neck position. You won't have to worry about pain anymore thanks to the Ausnew Dual Zone Pillow - Suits Long Necks. So, how long are you going to be waiting? Purchase this item right away!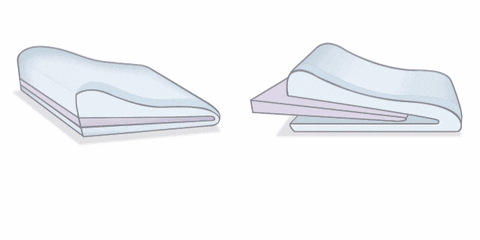 The Ausnew Dual Zone Pillow is an adjustable Memory foam Pillow for Long Necks.
Adjustable Luxury orthopedic pillow with a layer of comforting Memory Foam surface bonded to a traditional foam base.
An adjustable luxury pillow with a comforting Memory Foam surface bonded to a traditional foam base.
The pillow is also adjustable - a removable insert that allows it to be lowered for smaller framed people.
Cushions and supports your head and neck evenly
✔️ Features single contour allowing for full neck extension (ideal for "medium' and 'long' necks)
✔️ Removable foam inserts make it height adjustable
✔️ Specially treated to inhibit allergens
Therapeutic benefits:
✔️ Dual Zone pillow has been designed to encourage better position and posture during sleep. Single contour enables full neck extension, even head, and neck support, and encourages the natural alignment of the spine.

✔️ Top layer 3 cm thick Memory Foam - (widely used in general pressure care therapy) diffuses pressure to neck and head while the Traditional deluxe grade foam base ensures continued support and product longevity.
 FREE & FAST DELIVERY | 2-7 Business Days Australia Wide
---
Customers Also Bought