Leg Spacer - Knee & Hip Aligning Between The Legs Pillow
Sale price
$99.00
Regular price
$165.00
Are you suffering from back pain? If that's the case, Ausnew introduces the Leg Spacer - Knee & Hip Aligning Between The Legs Pillow, which helps ease lower back discomfort while also encouraging natural pelvic and spine alignment when sleeping.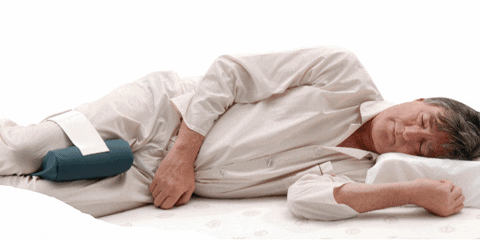 The Ausnew Leg Spacer helps align the spine & ease back tension.
The Leg Spacer helps relieve the lower back strain by properly aligning the knees and hips.
Convenient and comfortable positioning aid that encourages the natural alignment of the pelvis and spine when resting or sleeping.
Inhibits spinal twisting during sleep, encourages better circulation. Ideal for those recovering from hip surgery.
Strap adjustment helps secure Leg Spacer for a custom fit.
In pressure-diffusing Memoryfoam covered in moisture-resistant (hospital grade) Steri-Plus cover.
Helps align the spine helps alleviate tension to the back.

Therapeutically designed to help relieve pressure and strain on the lower back, hips, and knees while you sleep by helping keep your legs aligned with your spine.
The Leg Spacer Knee Support takes pressure away from the low back and hips allowing the spine to assume its natural 'S' shape.
✔️ Cushions and diffuses pressure
✔️ Encourages the natural alignment of the pelvis and spine when resting or sleeping
✔️ Inhibits spinal twisting during sleep
✔️ Encourages better circulation
✔️ Actively improves posture
✔️ Supports sound sleep throughout the night
✔️ A comfortable custom fit with adjustable straps to give you the best fit
---
Customers Also Bought