Naturelle Latex Roll
Looking for a multi-purpose pillow that helps with your back,neck and legs? This pillow is for you. Built to aligned spines, relaxes muscles and frees tension.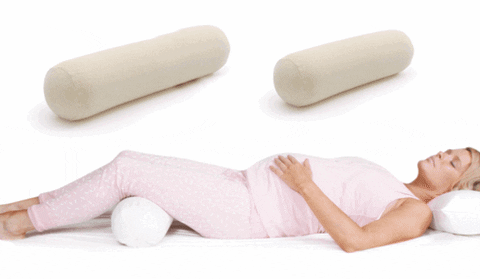 The Ausnew Naturelle Latex Roll is used as a postural comfort aid behind the neck, back, under knees, as a leg spacer, and under ankles to take the pressure off the heels. 
Aligns the spine, relaxes muscles, frees tension. 
✔️ The Naturelle Latex Roll Cushion works along your body
Provides effective side positioning
Provides forward positioning and roll control
✔️ Use the latex roll under knees to provide support to legs
Elevates knees to reduce leg and lower back pain
Diffuses pressure points, helps alleviate tension in the lower back
Alleviates leg pressure
✔️ Between Knees provides cushioning for your legs
The shape allows for positioning options.
A leg spacer to alleviate tension in the hips.
Holds legs apart following hip surgery.
Provides leg/knee abduction to prevent pressure and skin damage.
✔️ Under Ankles
Off-loads heels for zero pressure
Reduces swelling
Improves blood flow to the lower limbs
Under ankles to take the pressure off the heels
✔️ Use Under back to provide lumbar support to the spine
Compresses to form ellipse for correct spinal alignment
Use to treat lower back pain
Use as back support in the car, office chair, or wheelchair
✔️ Use Under neck as a neck support roll
Maintains the normal anterior curve of the cervical neck region during rest and sleep.
Maintains the normal curve of the cervical neck while sitting.
---
Customers Also Bought