Portable Shower Tray Royale
Have you considered a way to help your disabled loved one shower more easily? Ausnew provides the solution to your problem! The Portable Shower Tray Royale is the right piece of equipment for you; it was created to help carers and patients shower safely without having to go to the restroom. So, what are you waiting for? It's now or never to check out!

You don't even have to take your impaired loved one to the bathroom if you have the Ausnew Portable Shower Tray Royale. All you have to do now is position the hose where the drainage is.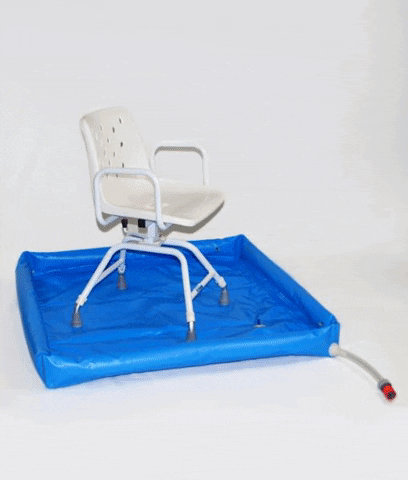 The Ausnew Shower Tray is a vinyl-based unit that makes showering easier. The tray can be placed on top of an existing drain hole or used over an open drain hole, by joining a hose to the side of the passage.
The Tray can be used along with a standing shower chair for those with disability problems. The Tray is also easily foldable into a carry bag, allowing quick storage and stress-free portability.
✔️ Comes included with instructions – clearly printed on the carry bag
✔️ Comes included as standard with a hose. No need to separately source.
Dimensions when inuse: 
Open on floor 1100mm x 1100mm x 75mm
Outlet location 250mm x 250mm from corner

Dimensions when stored:
Bag 350mm x 1330mm
Bag weight 2kg
INSTRUCTIONS FOR SET UP/USE OF PORTABLE SHOWER TRAY
- Unfold the shower tray, and position flat in the area to be used (dimensions when open 1100mm x1100mm x75mm)

- Locate two outlet options on the shower tray, one on the base of the tray and one on the side.

- Where a floor drain/waste outlet exists; remove the drain grid, position the shower tray base outlet over the floor drainage, and remove the plug for use.

- Ensure the floor outlet is pointing outwards, by unscrewing and refitting on the underside of the tray.

- Where there is no floor drain/waste outlet, a hose (optional) can be connected to the side outlet and directed to a suitable drainage point.

- Use the pump supplied, to inflate each of the four sides of the shower tray to trap water during showering/bathing.
 FREE & FAST DELIVERY | 2-7 Business Days Australia Wide
---
Customers Also Bought