S19 Quest Deluxe Folding Mobility Travel Scooter
The Ausnew Pride S19 is an ultra-lightweight folding mobility scooter. It is equipped with a Lithium Battery (Included) providing it with ultra-lightweight and a bigger range of drive. It folds up as easily as just one step.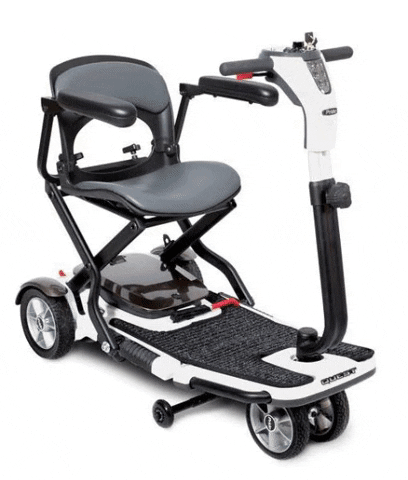 Features:

✔️ Folds in a simple movement take up very little space once folded and easy to transport around home or shopping centers.
✔️  One of the most advanced ultra-lightweight mobility scooters available.
✔️ Take it with you on your overseas holidays, it's only 27.3 kg and it would be approved by the airlines as a wheelchair and won't affect your luggage allowance.

✔️ Lithium Batteries now have MSDS Certificate which makes them safe for flight
Lithium Battery weight is 2.3kg.

✔️ Max Speed – 6 km/h
✔️ Length – 93 cm
✔️ Width – 48.5 cm
✔️ Height – 94.5 cm
✔️ Range – 20Km
✔️ Suspension – Indego suspension
✔️ Battery Type – Lithium
✔️ Weight: With Battery – 26.3 kgs
✔️ Weight: Witout Battery – 24 kgs
✔️ Max SWL – 115 Kgs
✔️ Folded Size – 75cm x 48.5cm x 45cm

 FREE & FAST DELIVERY | 2-7 Business Days Australia Wide
---
Customers Also Bought