Aged care residents in the Illawarra have been gifted hundreds of potted plants ahead of Mother's Day.
Key points:
Aged care residents in the Illawarra have received thousands of pot plants as part of a Mother's Day surprise
The plants were potted by local disability participants
All of the plants were sourced from local cuttings and had been grown since November last year
Participants from the Greenacres Disability Service surprised residents at the IRT's Tarrawanna Gardens home with 1,200 plants grown over the past six months.
"I had a beautiful surprise," said 78-year-old resident Roslyn Mackey.
"What a wonderful thing for them, but what a wonderful thing for us as well."
Cuttings sourced locally
The seven Greenacres gardeners have been working with IRT facilities management to propagate the plants with cuttings sourced from IRT aged care centre gardens in the Illawarra.
The Greenacres team received gardening training from IRT employees for the past two years and have been involved in the garden design and planting of various homes as a part of the Greenacres IRT Community Connect gardening program.
"We started doing it in November last year and it's come along really good, and the mothers here should be proud of what they're getting today," said Greenacres participant Nathan Jaffery.
For 71-year-old resident Sandra Whiteman her connection to the participants at Greenacres is personal.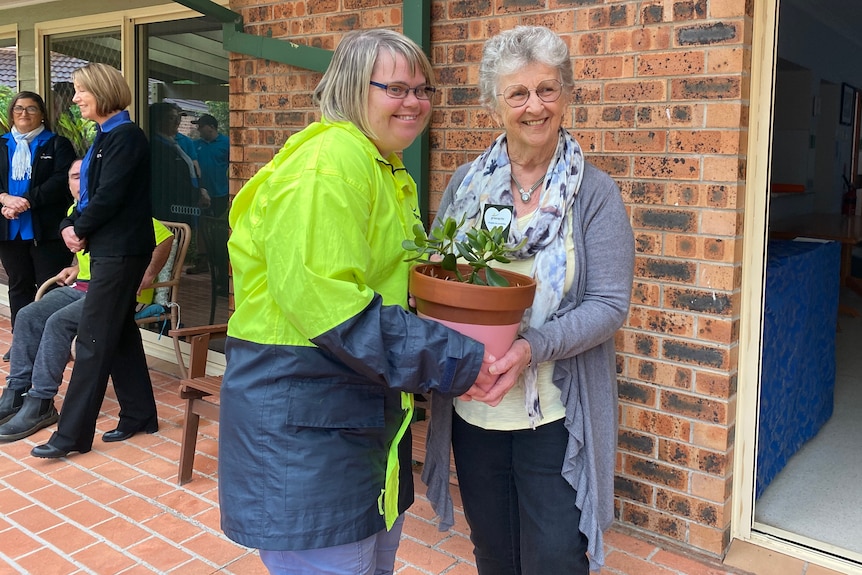 IRT and Greenacres have worked together for three years.
IRT group CEO Patrick Reid stressed the importance of two community-based organisations collaborating to benefit their participants and the people of Illawarra.
"As community-owned providers, one in disability and one in aged care, that kind of scope where we can come together [and] provide opportunity for the Greenacres team, it gives our team a great experience working with them and then for our residents," he said.
"They get to see the output of that — which are these lovely gifts that they'll be getting on Mothers' Day."
Learning new skills
Greenacres' skilled and social programs officer Leonie Way was one of the key players who organised the project.
Ms Way said the disability participants reaped many benefits from taking up gardening as a new skill.
"It's a life skill that they can learn. They can do it at work, they can do it at home. It's fresh air, it's community, it's social, and it's a great way to mix with other community-minded activities," she said.