Using creative endeavours as a way to better connect, support and upskill vulnerable members of the community is at the heart of what Jindera resident Kurt Saggers does.
The creative consultant, who has worked with a number of community groups over several decades, said his passion to help link people together was informed by his experiences of mental ill health and being in and out of psych wards. 
"When I was 20 I had a drug-induced psychosis, pot and ketamine, and I had quite a scary experience," Mr Saggers said.
"I ended up non-verbal in a psych ward for a long, long time — weeks.
He said he told his sister after he was discharged that he was going to make bean bags.
"She said 'you don't even know how to sew'," Mr Saggers said.
"But I started working in the community and I found out that I had a real passion for linking people together, so now my role is an artistic connector and bringing communities together."
He said his bipolar disorder went undiagnosed for 15 years.
"I got a diagnosis and then I met a bunch of people in my life that were sharing their stories and so I'm just doing the same," he said.
"If that can help someone then that's just gold in my book."
Creating a movement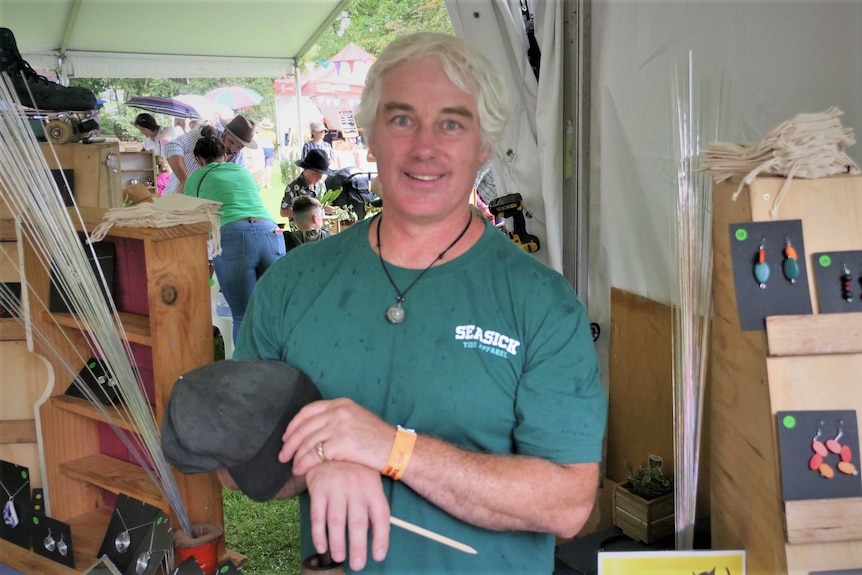 Mr Saggers set up a business 28 years ago to help connect artists with a focus on ethically-driven creativity and design. 
He has worked with a number of support groups over the years including Kirinari Community Services, which provides disability and aged care.
He said that included connecting with people from the service's Rise Espresso cafe in Lavington.
"We were just swapping craft supplies and having coffee and people were talking about their feelings in space and time. It was just a lot of fun," he said.
"And it's led to this massive movement really where we're doing plant swaps and produce swaps and people are coming out of the woodwork with all these [items]."
Recycled items for community creativity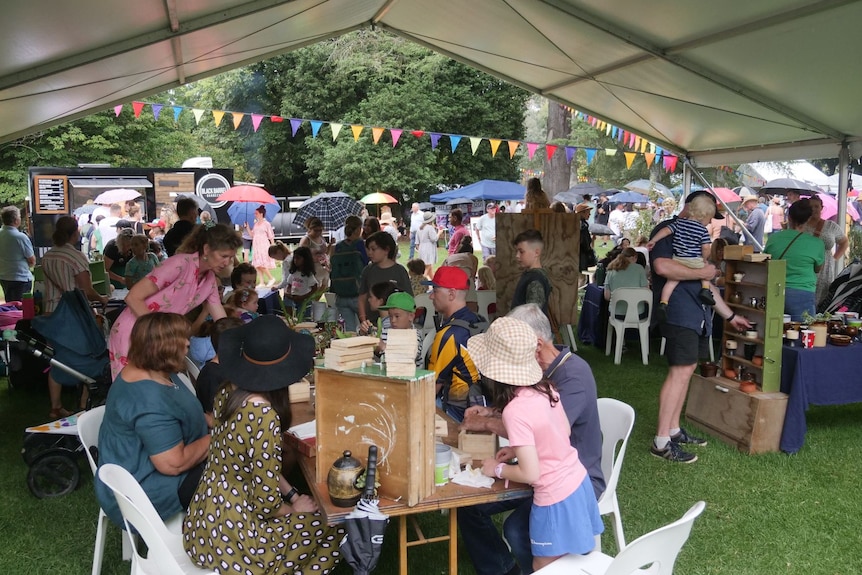 Mr Saggers has also linked up with day program facility The Buzz, which supports people with disabilities.
The Buzz service delivery manager Kirsty Widdowson said Mr Saggers' focus had helped her organisation with its new The Imperfect Project initiative.
She said the project was based on skill development and making items such as candles, earrings and dog bandanas. 
"He helped us source some of the items that we use in our projects," Ms Widdowson said.
"So some of the timber is recycled timber and it's repurposed from all sorts of places in the community, so we sort of link in with him nicely."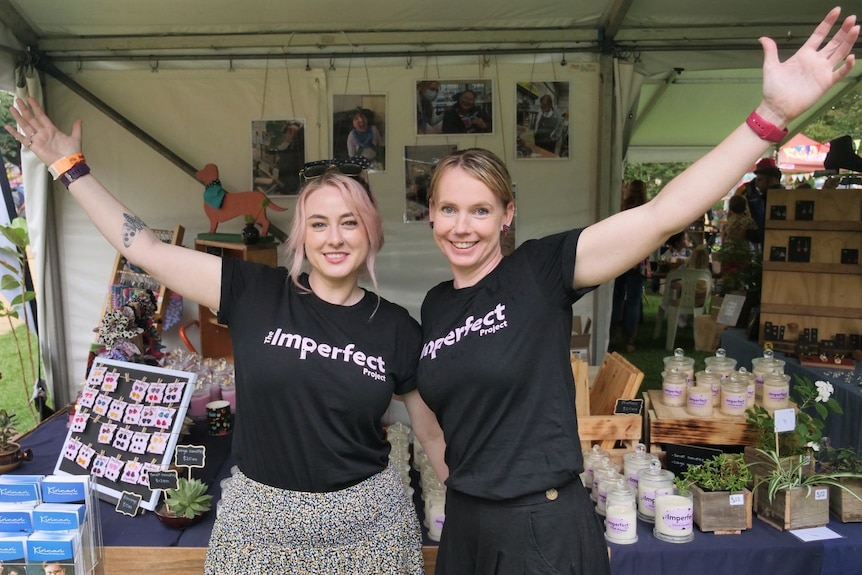 That connection between Mr Saggers, The Buzz and other community groups was also on display during Albury's recent Gardenesque festival.
Mr Saggers said there was a space at the festival where people could access a wide range of craft supplies.
"90 per cent of them have been reclaimed from op-shops or the tip-shop and we get it all refurbished," he said.
"We work with a bunch of artists within the collective to help us work on those. 
He said that included children with autism all the way through to the seniors in the Men's Shed.
'We're all entitled to a space'
Ms Widdowson said she hoped the work could provide greater awareness about people with disabilities.
"We are all entitled to have a space," she said.
"I like to think that we're teaching skills that people can certainly implement in their day to day lives, meaning that people are able to be more independent at home which I think is what we all want really."