Nathan Quinell has been blind and deaf since childhood, but that hasn't stopped the 32-year-old from pursuing his culinary dreams as the 'Hurricane Chef'.
With the help of high-tech kitchen gadgets, Mr Quinell travels around local community centres teaching people of all abilities to cook for themselves.
And his vegetable-cutting skills would put the average sighted person to shame.
"I've got no restrictions for anyone, regardless of their age, regardless of their ability."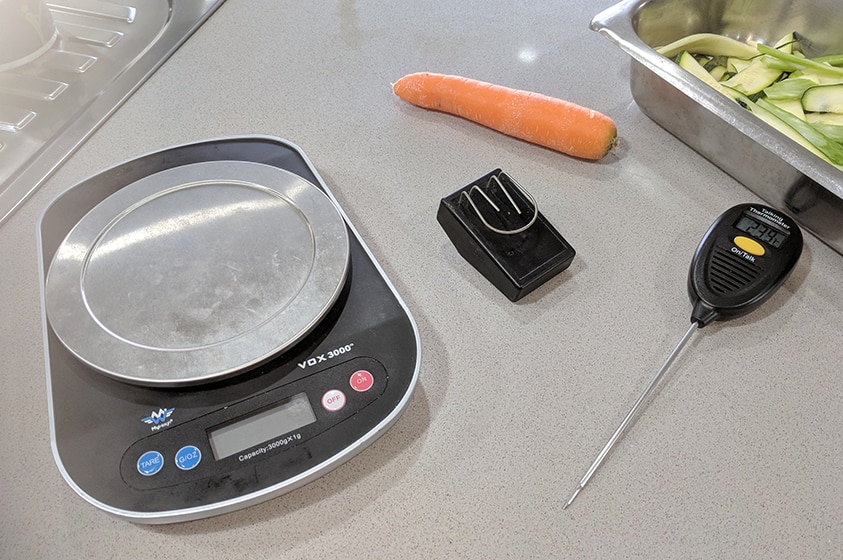 At just three years of age, Mr Quinell was diagnosed with Type 1 diabetes and at the age of eight, his hearing deteriorated to the point where he required hearing aids in both ears.
When he was 16, his eyesight had declined to the point he could not do his HSC.
It was then he was fitted with two cochlear implants, which changed his life.
"I really don't know how I would live [without cochlear implants]," Mr Quinell said.
Early years on a farm formed relationship with food
Mr Quinell said he grew up on farms with livestock and home-grown vegetables.
"I really loved cooking from an early age," he said.
Mr Quinell was offered the chance to train at Murwillumbah Community Centre and grabbed it with both hands.
He went on to do an apprenticeship at Taree's Manning Base Hospital in a regular commercial kitchen with minimal modifications.
After finishing, his parents helped him renovate a cafe to suit his needs and abilities in Old Bar, New South Wales, which he ran for three years.
Mr Quinell has now published his own cookbook featuring easy-to-follow recipes for everyone, especially those with physical challenges.
A most passionate nickname
His nickname came from his admiration of boxer Rueben 'Hurricane' Carter, who was wrongfully convicted of murder in the 1960s.
"I really love the way he was so passionate," he said.
"He just went on. He never gave up."
The challenges of having disabilities has never held Mr Quinell back either.
"We can do just as good as anyone else."