Anyone who has driven up the Sunshine Coast from Pelican Waters to Noosa knows it's not just a quick trip up the road to grab milk — in a car it can take more than an hour.
On foot – not that many people would consider doing it by foot – it can take six days.
But that is what one blind, non-verbal man, Gary Cooper, has just done.
He spent nearly a week walking 96 kilometres to Tewantin to raise money for children who have been impacted by domestic violence.
Mr Cooper's mother, Roz Cooper and his carer were with him every step of the way, as were members of the public and media who accompanied him for short stretches as he made his way to the finish line.
"We're so grateful to everyone," Ms Cooper said.
"People calling out from their cars or stopping their cars to come out and give us money."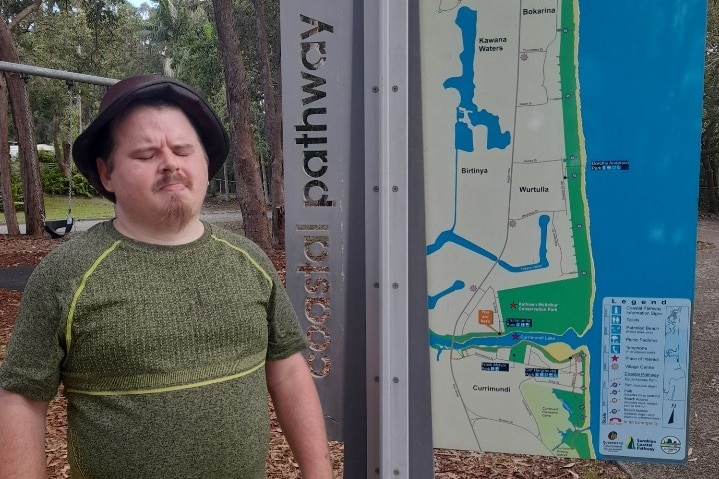 Wind, rain and extreme heat
The trio walked from Pelican Waters through a weekend of extreme heat, days of gloomy skies and persistent winds.
Mr Cooper had previously volunteered with Meals on Wheels and other not-for-profit organisations, but this was his most ambitious act of charity.
"I'm really amazed by my son," Ms Cooper said.
"One of the things we tend to do in society is look at the deficit thing.
"People, and particularly people with disabilities, we tend to [focus on] what they can't do.
"I've always looked at Gary, and said, 'Okay, what can we do? We know you can't see, but there's lots of other things to do in life.'
"So we just constantly look for what we can do, what his strengths are, and don't focus on those other things."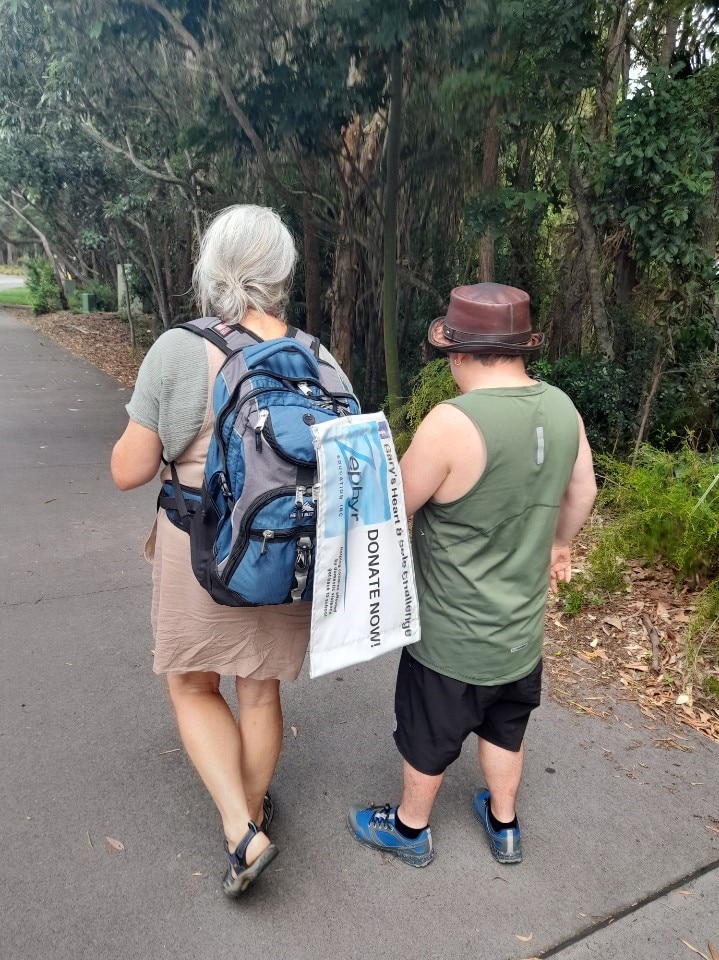 A worthy cause
Mr Cooper took on the mammoth journey to raise funds Zephyr Education, which supports child victims of domestic violence.
The organisation works to get children whose lives have been disrupted back to school.
"They work very humbly and very discreetly," Ms Cooper said.
"So if a child has to leave in the middle of the night with nothing, the next day Zephyr's working to get the children the books, the uniforms, everything to fit into the school class.
"We kept telling ourselves why we're doing this.
Source: ABC