Everyone who takes part in the annual swim along the longest timber jetty in the southern hemisphere should be proud, but Luther Frost-Barnes has more reason than most. 
Key points:
More than 3,500 swimmers took part in the Busselton Jetty Swim 
Luther Frost-Barnes uses a wheelchair and completed the "mile swim" on his first attempt
The 1.8km jetty is considered the longest timber piled jetty in the southern hemisphere
The 29-year-old, who has cerebral palsy and is legally blind, uses a wheelchair because of limited use of his limbs.
At the Busselton Jetty event, he took part in the "mile swim" — 1.6 kilometres from the end of the jetty to the shore.
Frost-Barnes was not unique in attempting the jetty swim for the first time. A record 3,576 swimmers entered the swim on Sunday morning.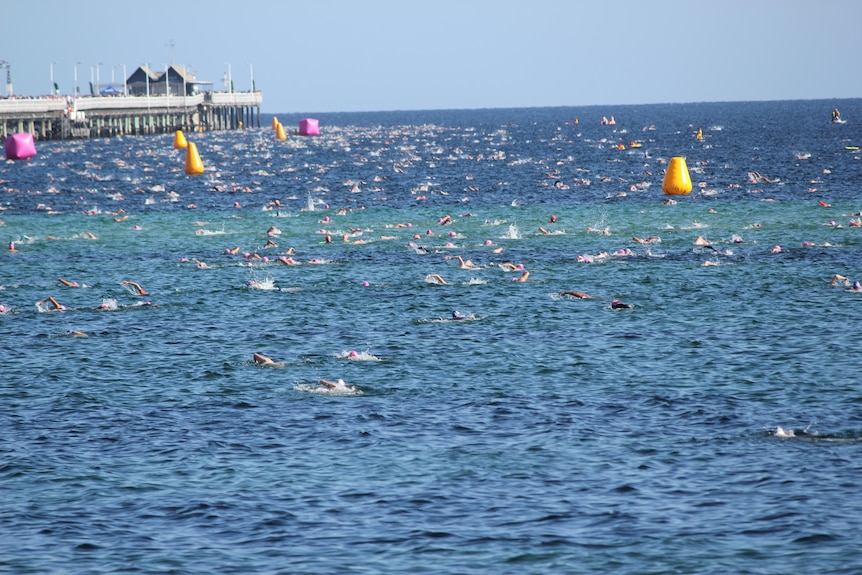 Open-water champion Kyle Lee broke the record for the headline Busselton Jetty event, achieving the 3.6km swim around the jetty in 38 minutes 59 seconds, and Jaime Bowler won the women's leg in 44 minutes 48 seconds.
Others were also celebrating their hard-won victories.
Frost-Barnes completed the "mile-swim" — one length of the jetty — in just over an hour, despite having limited use of his legs, and on his first attempt.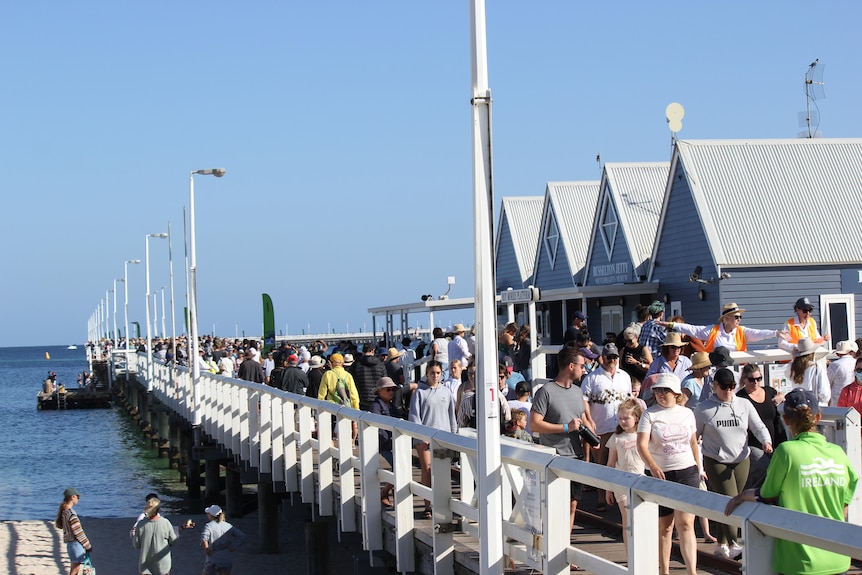 Just swim, swim, swim
Frost-Barnes, a personal trainer, emerged from the water to cheers.
His biggest challenge was coping with the waves washing over him as he swam.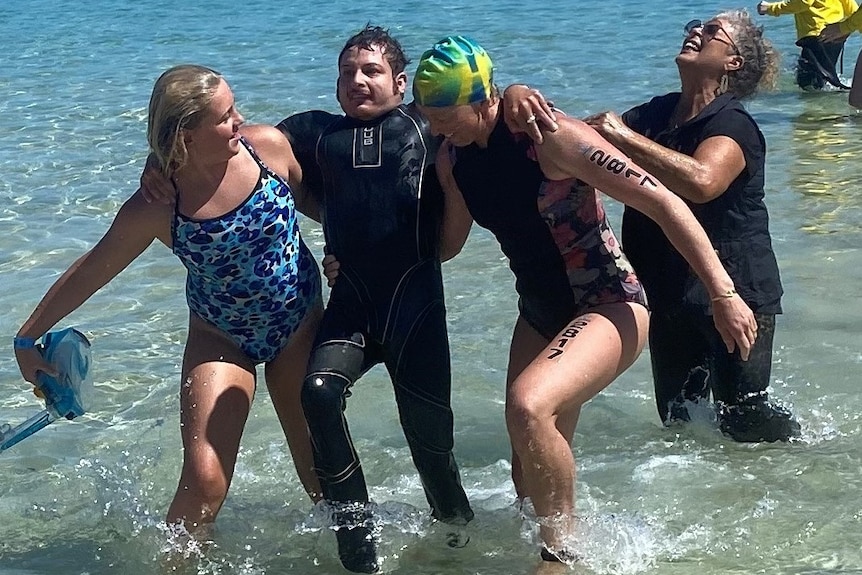 Frost-Barnes said his commitment didn't waver and he never had any doubt  he would finish the swim.
His triumph came after months of single-minded training
"No, it hasn't been difficult … I'm committed to swimming the jetty," he said.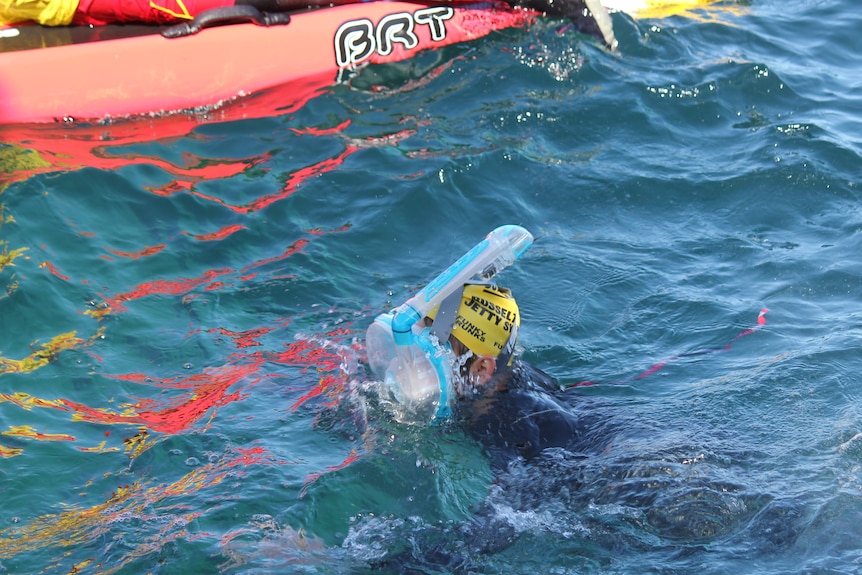 Frost-Barnes trained for months, supported by coach Sandra Walker, who slowly built up the distance and introduced him to ocean swimming.
"I wish most people had the same dedication and enthusiasm, he's just absolutely inspirational and I'm very proud of him," Walker said. 
Frost-Barnes was supported in the water by physiotherapist Anna Foley who lifted him from his wheelchair into the water, and swam along him every stroke of the way. 
Swimming, skiing and diving
Lorraine Frost-Barnes said her son had always pushed his body to the limit – he had done downhill skiing in Thredbo, and had his underwater diving certificate.
"He's getting that triangular kite-shaped back, which is typical of a swimmer, and he's very muscular — his ego's huge," she joked.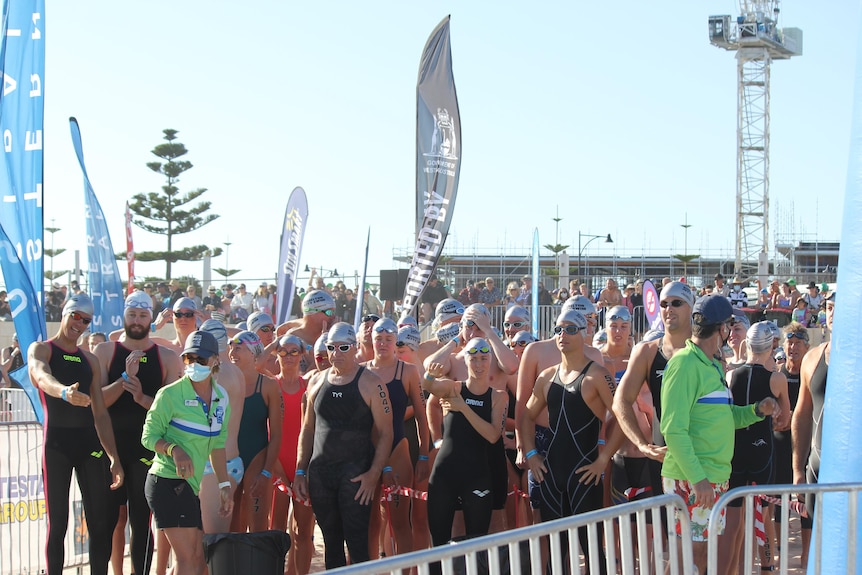 Intense physical exercise allowed Luther to have better control of his body outside the pool, she said.
"Where he's in a wheelchair, he's not using his legs that much, so they switch off … you have to manipulate his toes and move his legs.
"We're actually seeing big progress in how he's now developing and at age 29, that's pretty amazing."
Ms Frost-Barnes said exercise allowed Luther to appreciate what his body could do, despite limitations imposed by cerebral palsy.
Bucket list
Frost-Barnes said the jetty was part of his bucket list, which included skydiving and rock climbing.
He said his motto was "never give up" and his next challenge would be to complete the longer 3.6km swim around the jetty. 
"[I'm going to] keep training in the pool and the gym," he said.