By strict definition of the word, Luke Chellingsworth will never be independent. 
Key points:
The sensory room features specialist interactive technology including bubble tubes and a UV musical tactile panel
An Endeavour spokeswoman says there are not enough sensory rooms designed for adults with a disability
The NDIS says it is working to fill service gaps in rural, regional and remote areas
But a new adult sensory room has empowered the central Queensland man to experience a remarkable level of freedom.
"It's a safe, gentle environment where he can go in and have time to himself because a man like Luke — someone's got to be watching him most of the time," his mum Sue Chellingsworth said.
"So for him to be able to have some time to himself … I think we all like to have that time to ourselves and his behaviour does settle after that."
The 23-year-old lives with a rare and severe form of epilepsy called Lennox Gastaut Syndrome.
"Sometimes you'll only notice five or 10 [seizures] a day, sometimes he'll have 60 to 70 a day," Ms Chellingsworth said.
"With Luke, if he gets overstimulated or overwhelmed his behaviour escalates, so he starts banging on things or he'll pull his ears and quite often it'll bring on a seizure.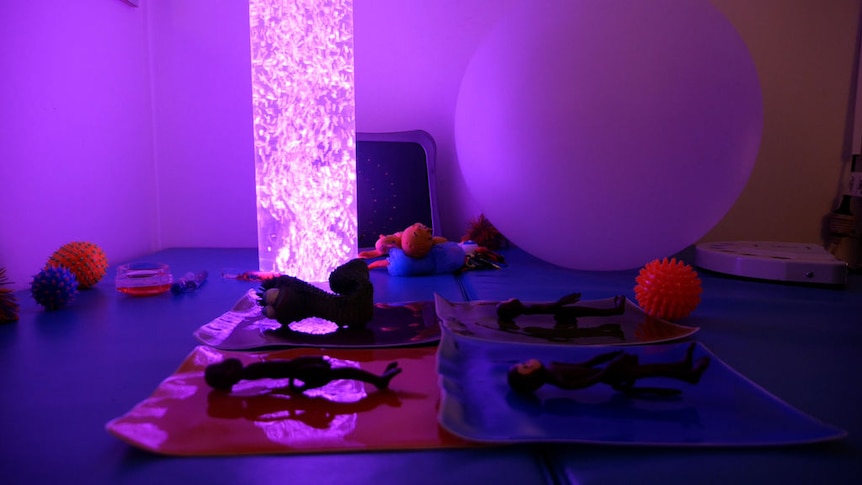 Dropping her son off at Endeavour Learning and Lifestyle two days a week, knowing he is engaged and happy, means the world to Ms Chellingsworth.
"That's a really good thing," she said.
She said knowing Luke was in caring hands allowed her to work a couple of days a week and have some time to herself.
'Game changing' for people with a disability
Endeavour Learning and Lifestyle Rockhampton opened the room in January thanks to a $29,000 grant from the Queensland Gambling Community Benefit Fund.
It is fitted with specialist interactive technology imported from the United Kingdom, including bubble tubes, relaxation and fidget aroma balls and a UV musical tactile panel.
"We either walk him in there and he sits on the couch or we take him in in his wheelchair," site manager Rhiannon Cole said.
"He loves the fibre optic one as well because it's all different and it's just the feeling of the different textures between the fingers and he can literally sit under it — it's quite soothing."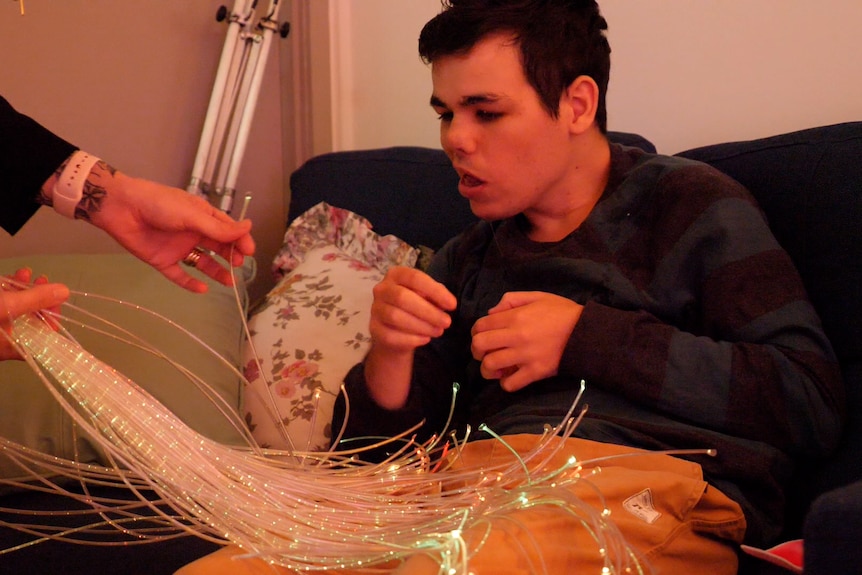 Ms Cole said more than 30 people use the room at different times.
"When it is noisy and overwhelming on the main floor, we can take them into the sensory room and they just return back to their baseline behaviour significantly quicker than they would if we couldn't offer that quieter space."
Sensory rooms for adults with a disability
Ms Cole said she had "noticed a huge difference" in behaviour and "a decline in incidences" since the room opened.
"It is the most interactive sensory room for a disability service," she said.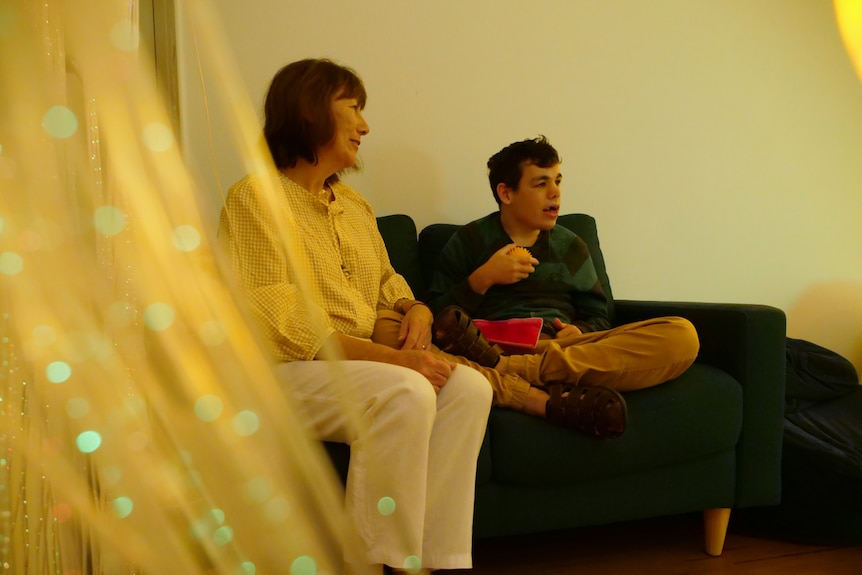 Ms Chellingsworth said she was not aware of the disability support services available to her son until he left school.
"It's been a very positive experience," she said.
"If he does have a seizure, he will fall over so you have to be with him all the time … if he's inside there are tables and chairs, but in the sensory room it's soft.
Service gaps slowly being filled
National Disability Insurance Agency spokeswoman Shannon Rees said 88,000 Queenslanders access support through the National Disability Insurance Scheme (NDIS).
"In regional areas where there's traditionally been service gaps or holes, the scheme itself will continue to work on the ground to boost support or ensure that people have access to the support they need," Ms Rees said.
Ms Rees said people could find services online.
"A really helpful tool on the website is a provider finder, so you can type in your postcode and it'll bring up what's in the area," she said.
"As a first point they should talk to their local area coordinator or their support coordinator, which might be something funded in their plan.
"We know the scheme can always do better … we continue to improve it.
"But we absolutely know that it's had a huge impact on building people's independence, their inclusion in the community, their opportunities for employment and education."
Source: ABC