Eddie Sutherland loved his job as a labourer at his local railway, but when work dried up two years ago, he was back in the unemployment queue despite being desperate for a new challenge.
He is one of the 4.4 million Australians with disability who are twice as likely as those without a disability to be unemployed.
"You feel like, 'When am I going to get any work?'," Mr Sutherland said.
"I was always at home and I just wanted to work."
Mr Sutherland, a person with intellectual disability, tried his hand at several jobs, but none of them worked out — and it wasn't for lack of trying.
But this all changed in July, when a Rockhampton truck dealership gave him his break. He is now employed to clean their vehicles.
"I used to do train work and that was fun, but there was no train work after that, and then I came here and I was learning all about trucks," Mr Sutherland said.
"It's really fun, and I'd love to learn how to service vehicles or trucks."
Mr Sutherland, who is also a volunteer firefighter in his local community, said he was really happy with his new job, and there was an added bonus.
'A whole new zest for life'
Mr Sutherland, 37, who is hoping to one day move out from his parents' home and live independently, landed his job through a chance encounter.
He is a long-term customer with the Disability Employment Service at Community Solutions, a support agency operating in regional Queensland, Victoria and South Australia.
His employer, Liam McCarthy, had just arrived in the region and met the agency's employment coordinator, Margi Keyworth.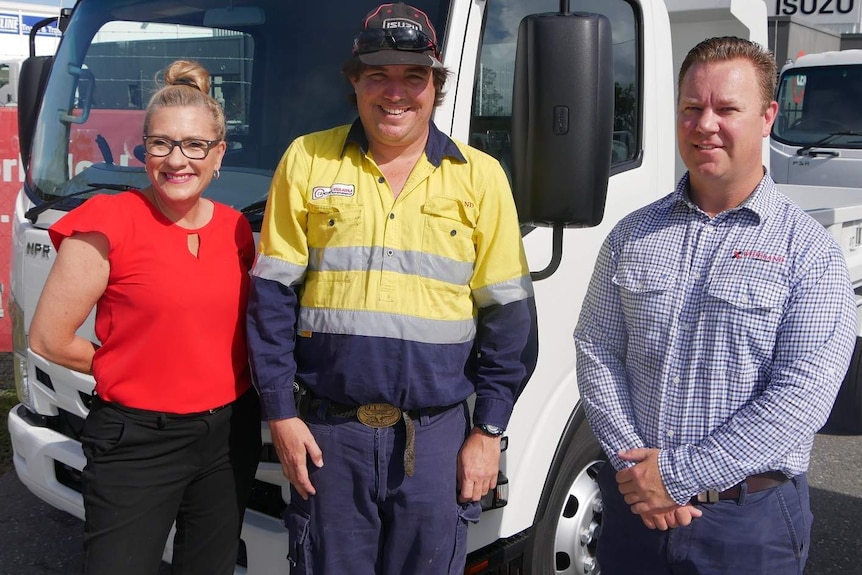 "If I hadn't been introduced to Margi, it's probably not something I would have considered," Mr McCarthy said.
Mr McCarthy found it was much easier than he thought it would be to take on Mr Sutherland, as Community Solutions provided all the support when it was needed.
"So there's no cost at that point to the business, no drain on resources, no time needed because Margi, or particularly Ed's caseworker, Bron, takes over and assists where possible, including coming out and working on-site with supervision and to train in new tasks," Mr McCarthy said.
He urged other businesses to give people living with disability a chance.
Apart from the support of disability caseworkers, and the government incentives available for employers, Mr McCarthy said having a person with disability in his team had brought unexpected benefits.
Support for employers
Ms Keyworth said in the five years she had known Mr Sutherland, he had always been keen to work.
"When these guys came to me and said, 'Hey, we're looking for someone to do our yard work,' Eddie came to mind immediately," Ms Keyworth said.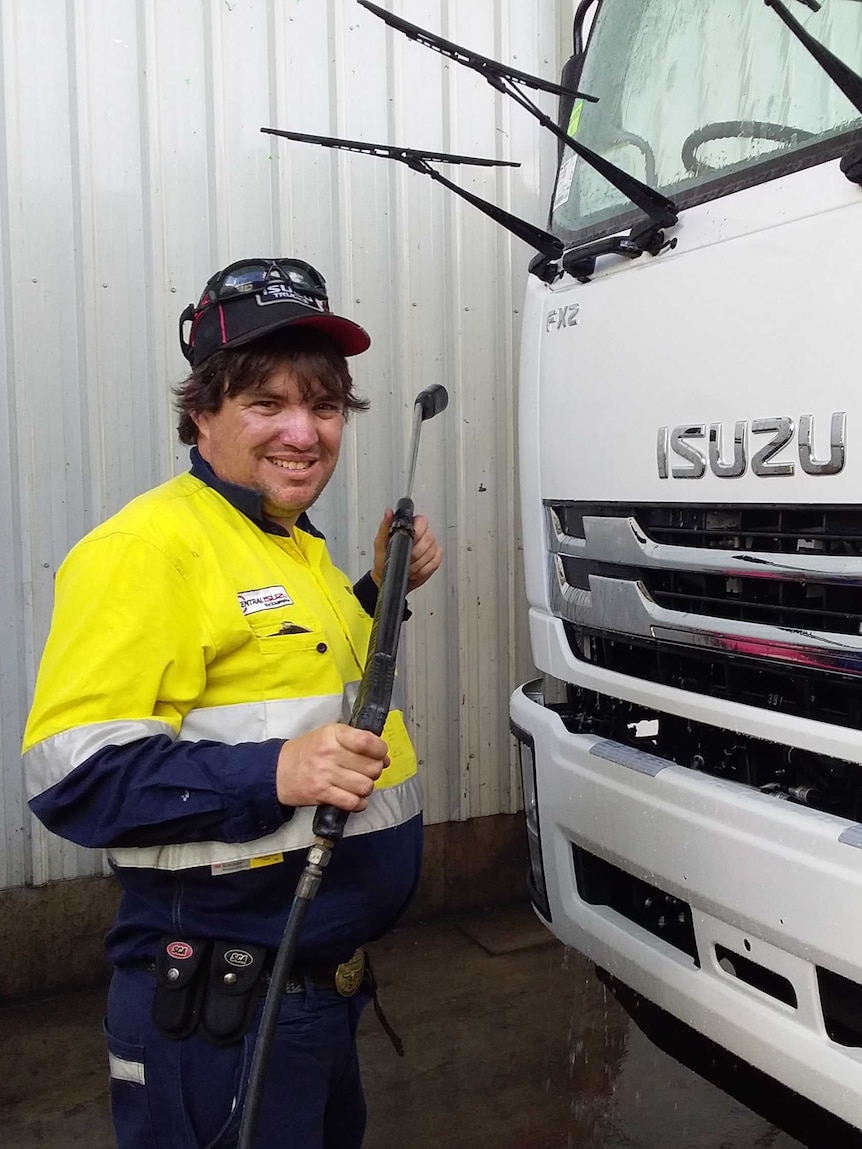 But she said it was a challenge trying to convince employers to take on someone living with disability, particularly during times of rising unemployment.
Ms Keyworth said most businesses only saw barriers when it came to applicants with disability.
And that support comes in the form of federally funded wage subsidies and ongoing support through organisations such as Community Solutions.
Ms Keyworth said where employers were looking for part-time or casual employees, taking on a person with disability could be a good fit.
"Lots of people with barriers typically have benchmark hours where Centrelink has said to them, 'OK, you can work eight hours or 15 hours', so this is an opportunity to pull those people in and train them up," she said.
The impact of having a job was almost immeasurable, Ms Keyworth said.
"They are able to go out in the community and spend money, they feel like they're more independent, they're happier and it's great for their mental health."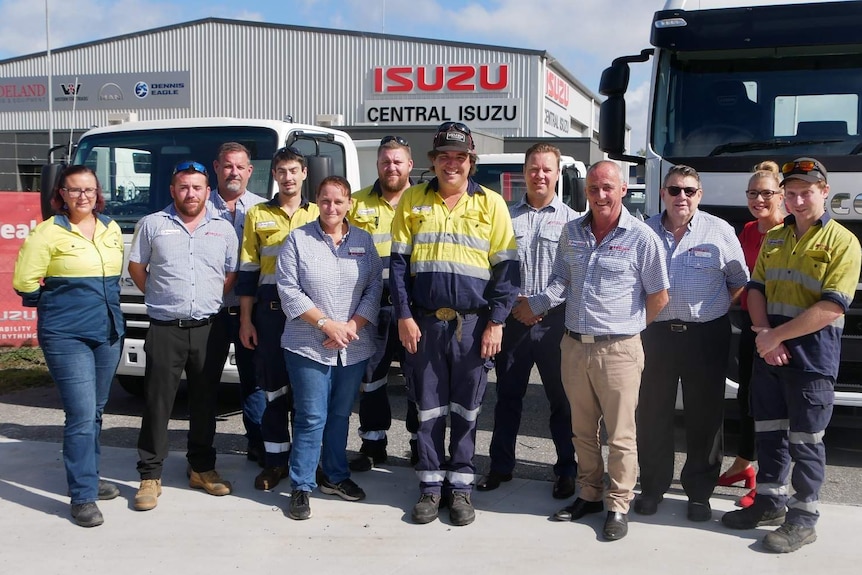 Ms Keyworth also had praise for employers like Mr McCarthy who hire people with disability.
"They're willing to change tasks, and give jobs to other people so that we can fit the person with a disability into that job.
"I love walking into a business that has a new employee who has a disability, illness or injury and they are so over the moon with how spectacular the experience has been."
Flow-on effect to all staff
Mr McCarthy said Mr Sutherland's employment had had flow-on benefits for his entire team.
"Ed's work doesn't seem to be a chore to him — it seems to be fun, and that rubs up on the other staff and they enjoy having him around," Mr McCarthy said.
"Ed's favourite time is 5 o'clock on a Friday afternoon, when we might have a beer or two, and then he heads off for the weekend."
He said Mr Sutherland was a hard worker and often came up with ideas on how the business could improve.
"He's not backwards in coming forwards with some of those ideas," he laughed.
Source: ABC