Carissa Bale wheels to the bathroom door and puts a "wet floor" sign at the entrance. 
Key points:
An Esperance shower service for people experiencing homelessness was forced to close during the pandemic
The non-profit organisation that ran it could not afford commercial cleaning costs
A group of people living with disability has volunteered to do the cleaning
Even with her leg in a cast, she loves working in a team to help some of Esperance's most vulnerable people.
Lotteries House, a non-profit building near the town's centre, operates a shower service, which allows people experiencing homelessness or sleeping rough to use their facilities.
But the service closed for almost 18 months during the pandemic because it could not afford the commercial cleaning required after every use.
"Our cleaning fees went through the roof because we had to have a cleaner in after every single shower," Lotteries House board member Brooklyn Barrett said.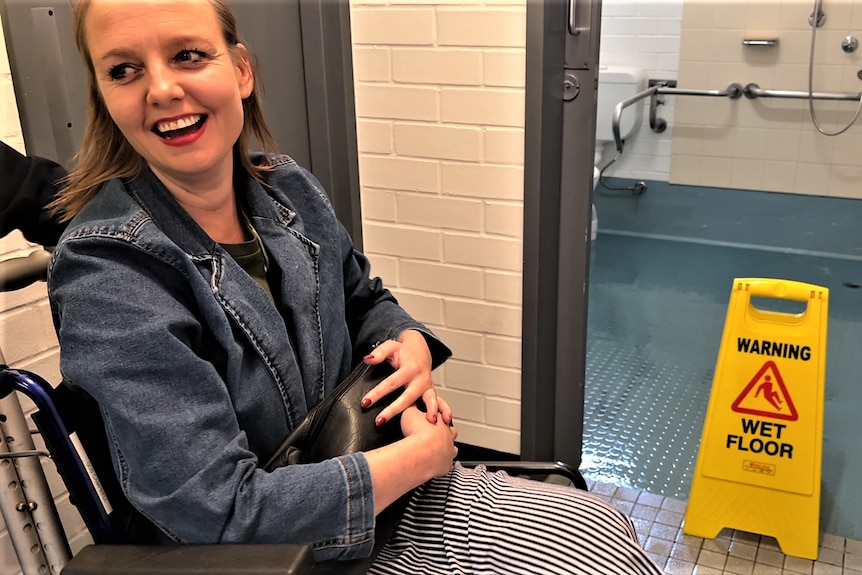 "Chemicals were more expensive [and] we needed more chemicals.
"And then at some point, we actually had to close the centre."
While the Esperance Shire provided an initial grant of $1,440, it was exhausted after a few months and not replenished.
No level of government or private donor came forward with the funds or resources needed to reopen. 
That was until a team of locals, who live with a disability, learned of the situation.
They decided to make their first foray into the world of volunteering.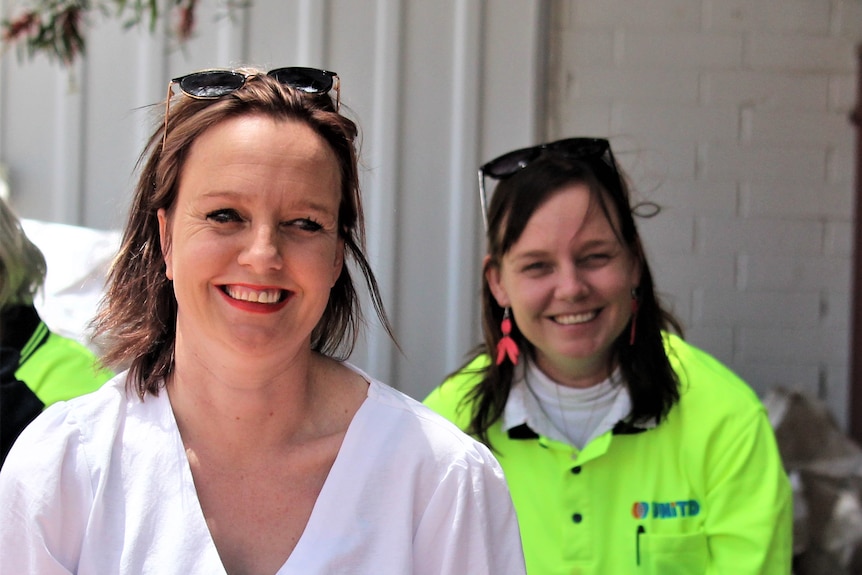 United team steps in to help
Almost three years ago, disability service provider Activ shocked clients when it announced it would withdraw services from Esperance after more than 40 years.
But the community then rallied to form the United team through Bay of Isles Community Outreach (BOICO), allowing the former Activ clients to continue group employment.
On top of their paper shredding and commercial cleaning work, they are now volunteering to clean the shower at Lotteries House once a week, so it is available to people who need it.
The word is still getting out about the shower service reopening, so uptake so far has been slow.
But the group hopes that, in time, the 10 or so people who used it five or six times a week before the pandemic, will return.
United team member Trish Anderson said she loved working as a team and cleaning.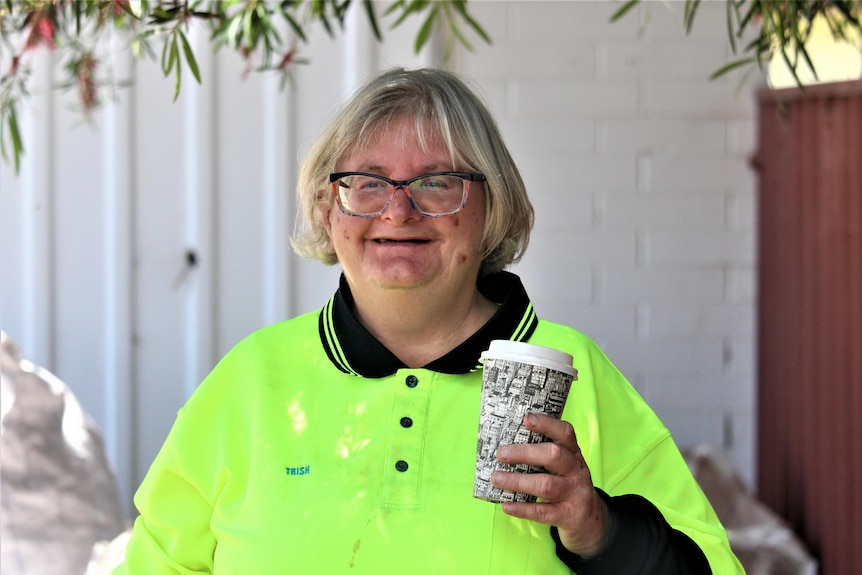 Although Carissa Bale has slowed down because of her injured leg, she said she always felt happy doing the work.
"I help people," she said.
"I love that everyone says 'thank you' to us as well.
"I'm so happy [to] help them out as a team."
Her sister Carla Bale was also part of the crew.
"We have fun," she said.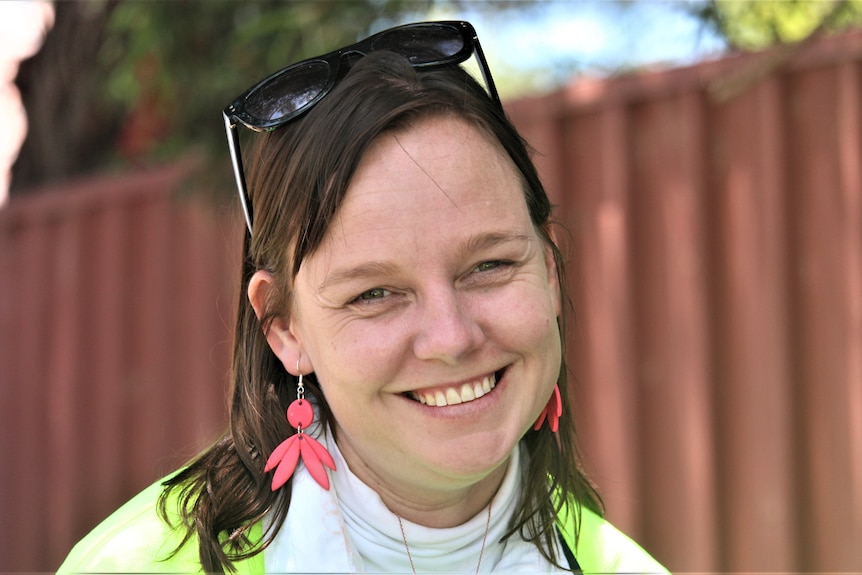 Cheryl Hoffman, Ms Anderson's niece and BOICO service delivery coordinator, said all the volunteers' families supported them being a part of the new cleaning program.
"They all thought it was great for them to be able to give back to the community," she said.
Although government COVID restrictions have eased, Lotteries House wants to continue the cleaning service, particularly as many vulnerable people come through their doors.
Ms Hoffman said in the future it might look for grants to pay the United team for the work, depending on how long Lotteries House wanted to continue with the strict cleaning schedule.
She said the team was only able to dedicate one day a week to the volunteer work, so suggested a grant could also help employ commercial cleaners on other days so it could open more regularly. 
A Department of Communities spokesperson declined to comment specifically on the idea.
A spokesperson said the state government had invested more than $780,000 to support specialist homelessness services, such as the Esperance Crisis Accommodation Service, which helps people experiencing homelessness.
The spokesperson said it was focused on funding services that helped people into permanent housing.
An Esperance Shire spokesperson declined to comment, saying the state government was responsible for homelessness.
Chance to 'pay it forward'
Ms Hoffman said the volunteering work showed how far the team had come since the closure of Activ.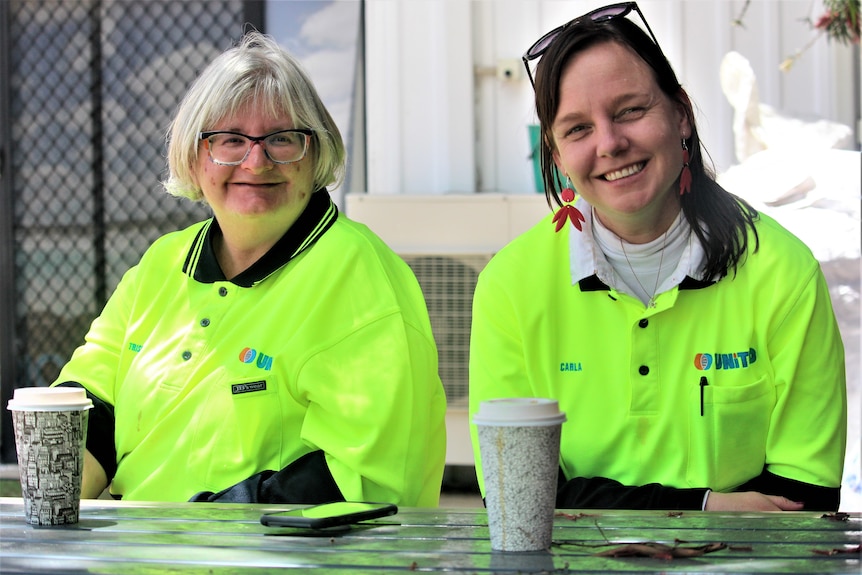 "This is really good for United to be able to show their thanks three years down the line from losing Activ and being able to build up to a great business where they're all together," she said.
"It's a way of giving back to the community and helping people less fortunate than them and thanking others — to pay it forward."
Ms Barrett said the team at Lotteries House was grateful.
"It's such a relief that they've come on board and really helped us out," she said.
"So we can keep going forward and offering that service to everybody in the community."
Source: ABC