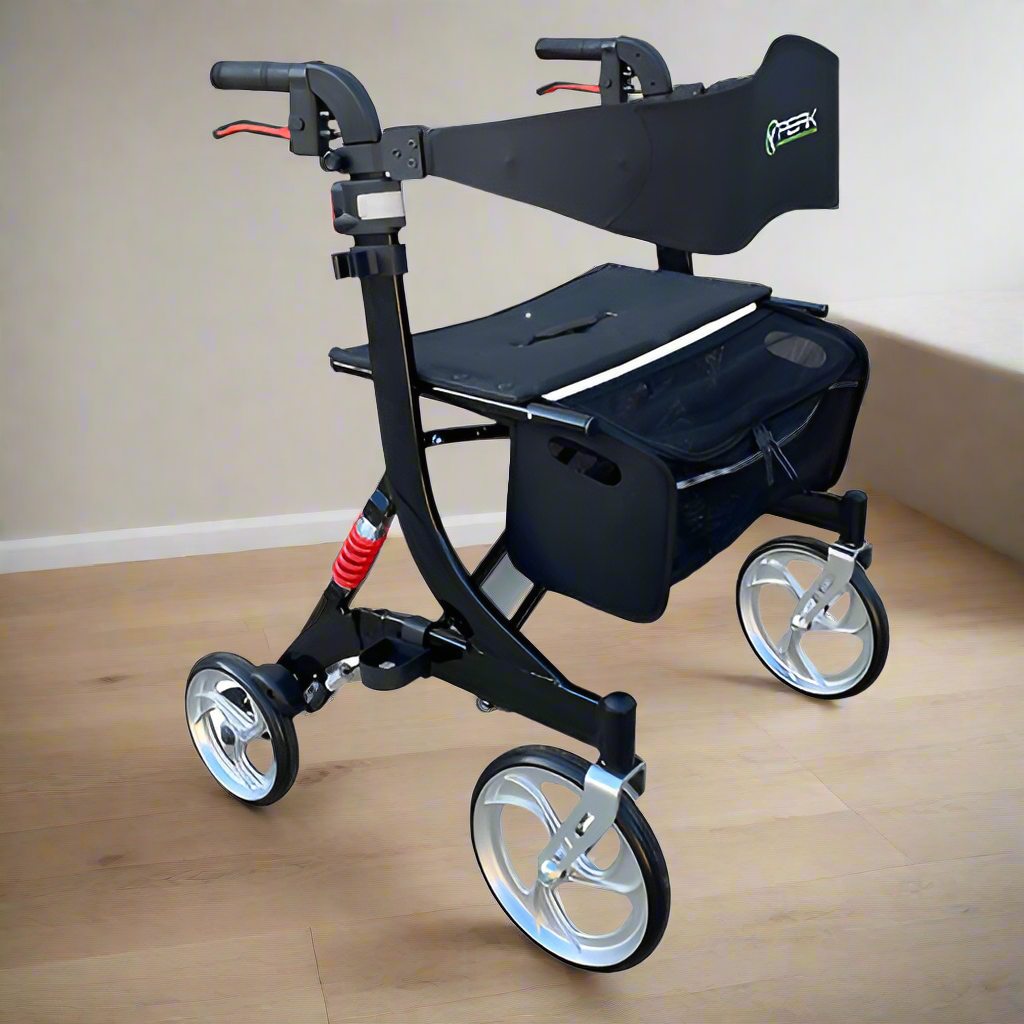 Welcome to our comprehensive guide to the
Ellipse Heavy Duty Rollator
!
If you're seeking a high-quality mobility solution that effortlessly combines indoor comfort with outdoor durability, you're in the right place. In this article, we'll delve into the remarkable features and benefits of the Ellipse Heavy Duty Rollator, showcasing why it's an excellent choice for your mobility needs.
Features and Specifications
The Ellipse Heavy Duty Rollator boasts an array of impressive features that set it apart from the rest:
Wider Seat Width: The generously sized seat provides superior comfort, allowing you to take a break wherever you go.

Height-Adjustable Handles: Customize the rollator's height to match your individual preferences, ensuring optimal posture and ease of use.

Sturdy Aluminum Build: Crafted from premium aluminum, this rollator strikes the perfect balance between robustness and lightweight design.

Unique Suspension System: The innovative suspension system delivers a smooth ride across a variety of terrains, making walks a pleasant experience, even on rough surfaces.

Removable Carry Bag: The convenience of the removable carry bag cannot be overstated. Easily detach it to keep your belongings close and organized during your outings.
Indoor and Outdoor Use
Whether you're maneuvering through tight hallways indoors or conquering uneven paths outdoors, the Ellipse Heavy Duty Rollator excels. Its thoughtfully designed frame allows for easy navigation in confined spaces, while the rugged wheels ensure stability on different surfaces. Transition seamlessly from home to the great outdoors without compromising on comfort or performance.
Unique Suspension System
One of the standout features of the Ellipse Heavy Duty Rollator is its cutting-edge suspension system. This technology absorbs shocks and vibrations, translating to a smoother and more enjoyable walking experience. No more jarring impacts or discomfort – this rollator glides over various terrains, making your journeys more pleasant than ever before.
Maintenance and Care
Caring for your Ellipse Heavy Duty Rollator is simple. Regularly wipe down the frame and wheels to prevent dirt buildup. Lubricate moving parts as needed to maintain smooth functionality. When not in use, store it in a dry, cool place to extend its lifespan.
User Reviews
Don't just take our word for it. Here's what some users have to say about the Ellipse Heavy Duty Rollator:
In conclusion, the Ellipse Heavy Duty Rollator is more than just a mobility aid – it's a gateway to freedom and comfort. With its wide seat, height-adjustable handles, unique suspension system, and removable carry bag, this rollator is designed to enhance your mobility experience both indoors and outdoors. Don't miss out on the opportunity to improve your quality of life with the Ellipse Heavy Duty Rollator.
Explore more about the Ellipse Heavy Duty Rollator here.
---