The EzyUps Dressing Aid is an Australian designed easy-to-use lightweight tool created to solve the problem of people struggling with flexibility issues.
One of the most frustrating problems you face after hip, back, or leg surgery is the inability to be able to dress yourself. If you have an older mum or dad still living at home they're most likely struggling with this simple task also, only they're never going to tell you because they feel a bit embarrassed about it.
With the EzyUps Dressing Aid, you will be able to easily dress yourself and put on your underwear (Disposable & Standard), Skirts, Tracksuits, Trousers, and Slacks.
Introducing The Ausnew Ezy Up Dressing Aid
The Ausnew  EzyUps Dressing Aid gives people back their dignity & independence, allowing life to be lived to the full while also giving you control back of an activity we all take for granted.
Although initially designed for the older generation, the EzyUps Dressing Aid is also ideal for people of all ages that are experiencing limited flexibility because of:
Recovering from hip surgery

Back injuries & fused spines

Pregnant women in the third trimester

Restricted movement
✔️ Easy to hold with a soft handle grip
✔️ Holds clothing fully open for easier placement over feel with minimal pressure required
✔️ Embedded high tensile steel through centre of aid for added strength and durability
✔️ The grip technology prevents clothes from slipping off
✔️ Aligns clothing to a correct angle for pulling up over the legs
The EzyUps Dressing Aid is Easy to Use With Three Steps:
Sit on a comfortable chair with a flat surface beside you and place pants facing upwards. Fit the EzyUps heads inside the waistband of the pants, noting that the correct angle can be achieved by placing your thumbs on the two indicator buttons below each handle.

Now you can place the pants in front of your feet by holding the EzyUps handles. You'll find it easy to slip your feet, one at a time through the pants.

Slide the pants up your legs until you can reach the pants and then remove the EzyUps Dressing Stick.
How to use the EzyUps Dressing Aid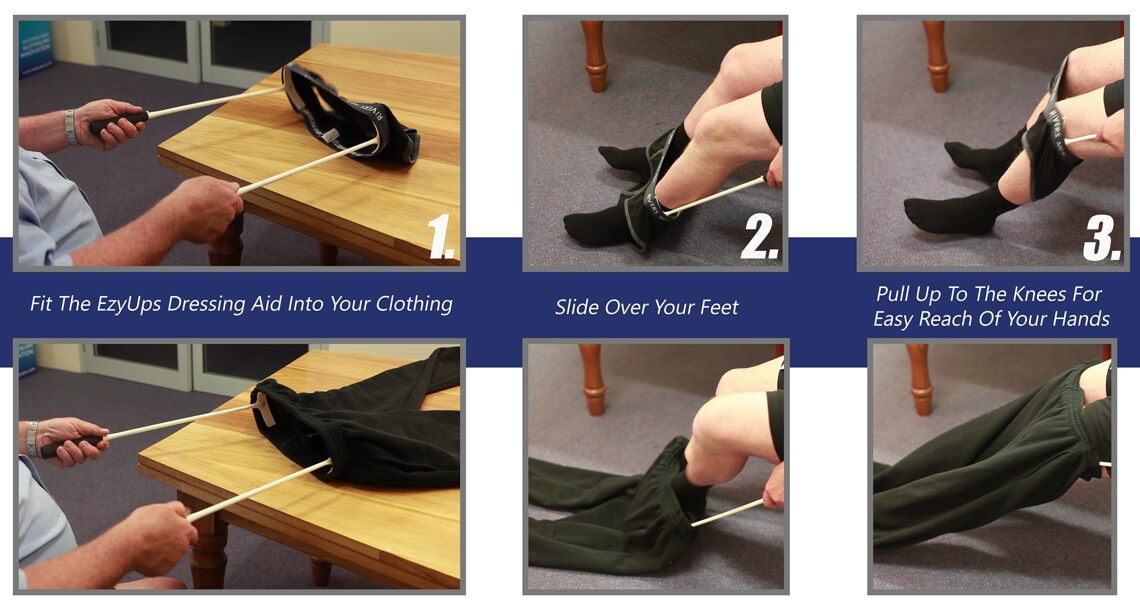 The EzyUps Dressing Aid is also helpful with pregnant women in their last trimester, people with multiple sclerosis, people with sporting injuries, and people struggling with mobility after surgery.
Designed in Australia by Bill Carbray, the EzyUps Dressing Aid was first created to solve a problem for his mother who was in her 90's.
Due to her reduced mobility, Bill's mum was being affected daily with the problem of getting dressed. Stress and embarrassment, and the will to live were all side effects of this problem that of being unable to dress in the morning.
With the EzyUps Dressing Stick, anyone struggling with restricted mobility will now also be able to dress independently of others and maintain their dignity.
You can have your EzyUps Dressing Aid delivered to anywhere in Australia today (free shipping).
 Ausnew Home Care is your go-to source. We offer EzyUps Dressing Aid for purchase, so visit the EzyUps Dressing Aid product to get the Dressing Aid you need quickly and easily. 
For further information on any of our products please email or call (02) 9159 6183 our friendly staff who are happy to help.