Ruby Cameron never liked sport; she used to cling to her teacher rather than venture out onto the field.
But when her mum Susan Starr signed Ruby up to weekly riding classes at their local Riding for the Disabled facility north-west of Brisbane, the neurodivergent nine-year-old blossomed.
"I have no idea how it works, but for some reason it's just brought Ruby to life," Susan said.
"[With] other sports, she was always afraid, didn't want to do it, didn't want to go, wouldn't let go of the teachers' hands.
Ruby is one of 60 regular riders at the Samford Riding for the Disabled branch, supported by experienced coaches, patient horses, and dozens of volunteers.
Riding for the Disabled was founded in Queensland in 1985, expanding into other states offering riding lessons and therapeutic exposure to horses for children and people with disabilities.
Now, the volunteer organisation has 17 centres in Queensland and dozens more nationally.
Horse and rider
At Samford, the centre has an Olympic-sized arena, nine horses, and up to 80 volunteers putting their time into helping people like Ruby grow through riding lessons each week.
Coach Rhiannon Hutchings has been at the Samford Riding for the Disabled for more than a decade.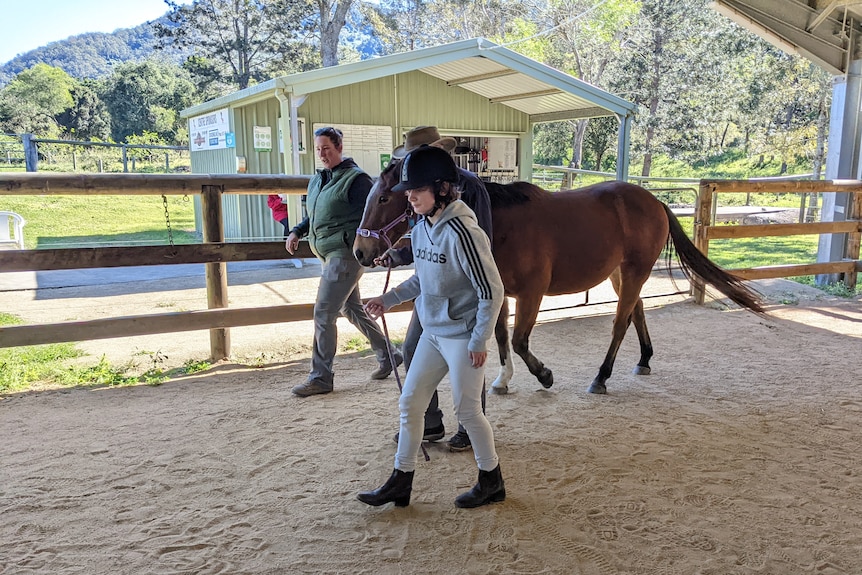 "When we sit on a horse, and a horse walks underneath us, it creates in our pelvis and our torso exactly the same movement as when we walk on our own two feet, so for riders who find walking very difficult, impossible or really tiring, we can recreate that walking experience," she told ABC Radio Brisbane.
"They can also engage in non-verbal communication to ask our horses to do things, which strengthens overall communication."
While the volunteers put much time and effort into working with people facing their fears and own physical or mental challenges, the horses are also putting in hard work.
"Our horses are incredible; [as is] seeing them react to our riders," Ms Hutchings said.
"If you watch a rider become slightly unbalanced, you'll often see a horse correspondingly step over to that side they're unbalanced, to almost pick them up, or following what you can almost feel is a rider's intention."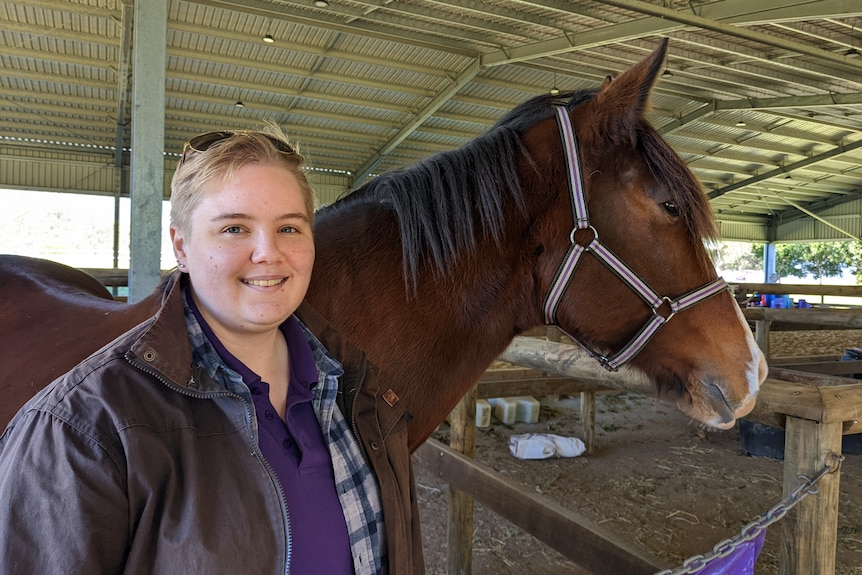 Sarah Lupton has been an assistant coach at RDA Samford for three years, after starting as a volunteer.
A horse lover from childhood, she realised that her nursing studies corresponded with the work of partnering with people with disabilities, and their families, with horses.
"It's less about treating the immediate medical issue and more about rehabilitating, building strength, providing opportunities for people to have independence where they wouldn't normally," she said.
"Some of the kids especially who [use a wheelchair], you put them up on a horse and their confidence just grows exponentially, because they can see the tops of people's heads which they've never seen before."
Horses at the centre of everything
RDA Samford volunteer secretary Jane Marsh said the horses were at the heart of everything the organisation does.
"We treat them like gods, basically; they get everything they need. We do a lot of fundraising to make sure we can do that for them," she said.
Large or small, the horses selected must be extremely calm, tolerant, and willing to be handled by dozens of different people.
It's a tall ask for a horse and means that the RDA is on the lookout for new horses to add to their herd — the same kind of horses or ponies in high demand for children and pony club.
"It's an ongoing hunt for horses because we do retire them when they show signs of not enjoying it anymore, we don't force them to stay here," Ms Marsh said.