Elevates and soothes aching legs aiding circulation. Recommended for varicose veins, swollen feet and ankles, during pregnancy and convalescing. Six optional comfort positions for supporting lower limbs. Provides even weight distribution.
Introducing the Ausnew Legs Up Support
The Ausnew LegsUp Leg Rest is proudly made in Australia utilizing the world-class manufacturing and health and safety standards that Australia upholds.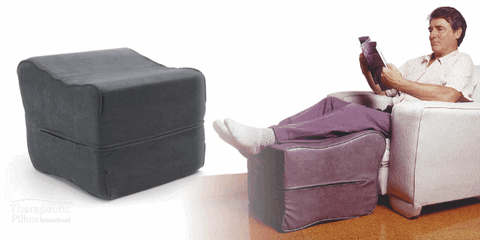 Features and Benefits
✔️ Legs Up Ottoman - Get your legs up and circulation
✔️ Superb leg support to elevate and soothes aching legs, and to aid circulation
✔️ Patented design features six options to cater for people of varying height and physique, and for chairs or couches of differing heights
✔️ Even Weight distribution means no pressure or stress on heels and knee joints
✔️ The Design will not cause tension in the sciatic nerve
✔️ Elevates the legs to relieve vascular drainage, reduces swelling in lower limbs
✔️ Diminishes the load on the heart through gravity assistance to circulation
✔️ Alleviates strain on the lower back by supporting lower limbs, takes the pressure off discs
✔️ Conforms to accepted postural design criteria
✔️ Looks good, feels good
✔️ Portable
The LegsUp Leg Relaxer is recommended for a range of conditions:
Varicose Veins
Swollen feet and ankles
Tired legs
Comfort during Pregnancy
Convalescing
Therapeutic comfort for Heart Conditions
Two Versions
Soft leather-feel premium vinyl in antique grey.
Soft durable fabric Dura-Fab in mid grey.
Specification

Note:
It is not recommended to sit for long periods in a fixed or still position. Changing body position regularly and moving your body where possible can help improve circulation and natural rejuvenation of the body.
Reviews
Please visit our website to see the entire selection of items offered by Ausnew Home Care. Please contact our helpful team by email or phone at (02) 9159 6183 for further information on any of our items.