In a classic country town hall, Bendigo's emerging breakdancers are learning about life and movement from Karl Jacobs, who is legally blind.
Key points:
At just 16 years old Karl Jacobs lost his sight
He went from budding tennis star to international dancer
Jacobs is bringing breakdancing to regional Victoria
Far from the heights of his peak as a sponsored break-boy travelling and performing in South-East Asia; Jacobs is guiding a group of eight-year-old girls through stretching, preparing them mentally and physically for their next challenge — the Tapping Backswing.
"It's a frustrating move," he warns.
"Your body is going to want to do one thing and your mind is going to want to do something else.
"There's a lot of moving parts that have to come together.
"It doesn't matter about the power so much, it's about the form."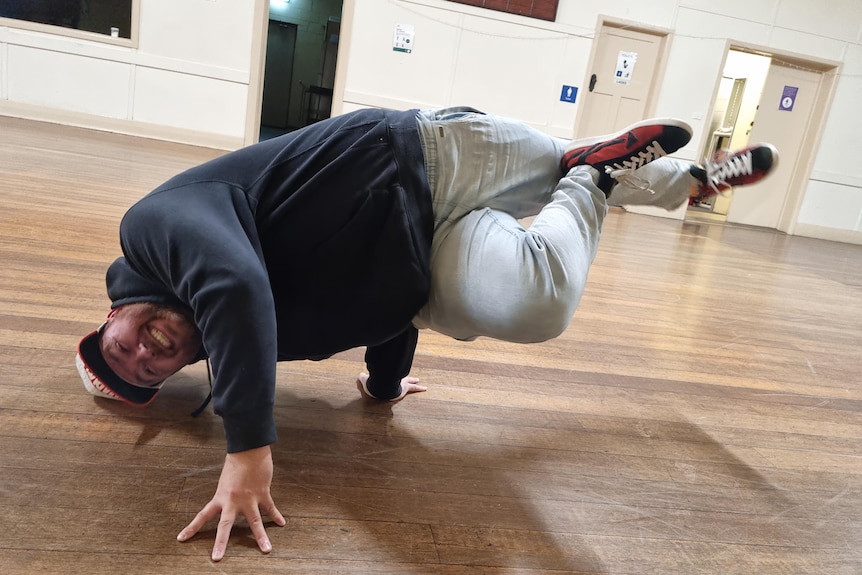 The highs and lows
His words have a warm gentle tone. His patience informed by the experience of guiding his younger sister through young adulthood after the death of both their parents.
"Don't get frustrated," the 35-year-old says. "We'll do it together slowly."
Jacobs first demonstrates each step of the move, with the strength and control of an athlete.
Before he was a dancer, he was a budding tennis star.
But life had other plans.
At just 16 years old, and in the same week as the man he called Dad was diagnosed with terminal cancer, Jacobs lost his sight.
"I was training to get to Wimbledon, and overnight I just couldn't see the ball anymore," he says.
Jacobs has retinitis pigmentosa, a rare genetic disorder that involves the breakdown and loss of cells in the retina.
It first presented as night-blindness as a child and as an adult, the disease has tested his strength and re-routed his future.
"It sucks because I don't have freedom and I have to depend on people," he says.
"But at the same time, I'm glad I have this and not someone else.
Dancing became Jacobs' outlet, freedom of expression and place without judgment.
"I don't feel judged. And even if I do feel judged, it's when I'm in a competition and I'm meant to be," he says with humour.
"I had to change track, but I still wanted to be physical, and it was the one thing that no one else was doing, so I was like … I'm going to do that."
His track may have changed; but the fighting attitude of a competitive sports star remains.
"It builds my confidence up, knowing I can walk into a room and know that I can do cool stuff that others can't do."
Teaching refugees and in youth justice
Now, along with private classes, he brings his style to the local refugee community and the Malmsbury youth justice centre.
He hopes the dance academy Sick Steps, which he founded, will provide others the opportunities like it's provided him.
In a brightly lit room, Jacobs sees the outline of his students crushing it and shouts to them.
"Sick!"
His intensity is apparent in his teaching, as is his control and deliberate usage of it.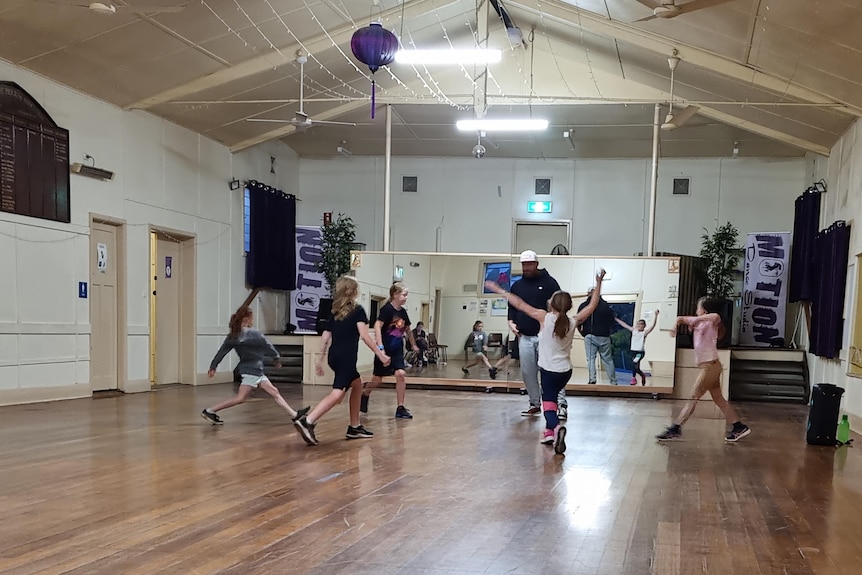 From the slow start of the class where students tackle each movement one step at a time, the energy builds as they put the movements together.
"How do you feel about it?" he asks his students. "Do you want to take it up a little?"
By the end of the session music is loud; encouragement is strong. This group is bringing it and cheering each other on.
"I just think, whatever you do, be good at it," he says.