Robbi Flynn has always loved hiking trails with her dogs by her side.
On a warm January afternoon, she crunches the gravel of a trail alongside the canals of Ascot in Perth, with her poodle Meep prancing by her side.
Kaljuk Island in Ascot is one of a handful of walking trails in Perth she has found that are suitable for her as a wheelchair user.
But finding accessible trails has not always been easy since she started needing to use the wheelchair last year.
"It's definitely been a bit of touch and go, explore as we go and figure it out," Robbi says.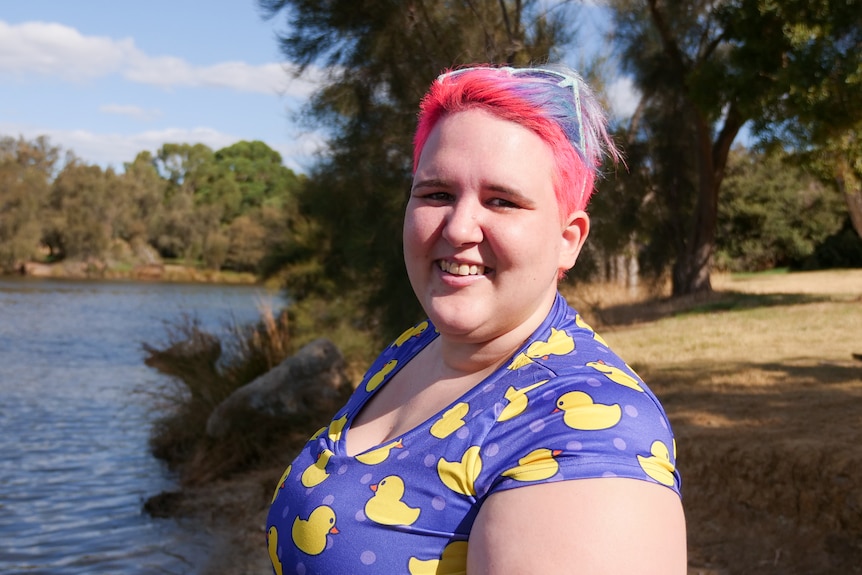 When she does find one, she posts on social media to alert other wheelchair users so they can avoid having to go through the same trial-and-error process themselves.
Robbi wants to let other wheelchair users know where any obstacles exist, to give them more information on what to expect on the trails.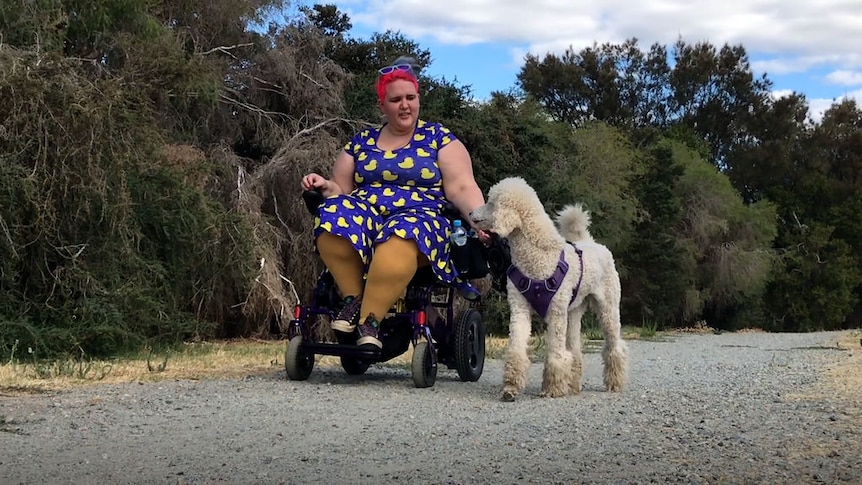 All it takes is a kerb
Although, as a part time wheelchair user, Robbi is personally able to walk to get past some obstacles, she says something as simple as a kerb can stop many wheelchair users from being able to access a trail.
"Depending on what type of wheelchair you have, what type of mobility issues you have, you may not be able to get over that little lip to get onto the trails," she says.
Trails are graded based on the Australian Walking Track Grading System, which was developed by the Victorian government.
The gradings, which range from one to five, consider elements such as distance, gradient, the quality of the path, the experience required, time taken to complete the route and the number of steps, if applicable.
But on more than one occasion, Robbi has needed to go off-road to complete a trail that was a little more extreme than the grading had indicated.
She loves off-roading in her chair, which she says has given her back her freedom.
"It can handle the gravel, it can handle grass, I put it through mud, and it did pretty well with that. It's entirely waterproof so I can go out when it's raining. It's been fantastic," said Robbi.
But she says not everybody has the luxury of a motorised wheelchair with the capacity to overcome obstacles like mud and puddles on the trail.
"I try to let people know what trails are out there, how accessible they are for different kinds of wheelchairs," she says.
"I definitely get lots of feedback saying 'thank you for showing us the bits that most people don't think about'."
Robbi shared a list of her favourite accessible trails in the Perth area with ABC Everyday.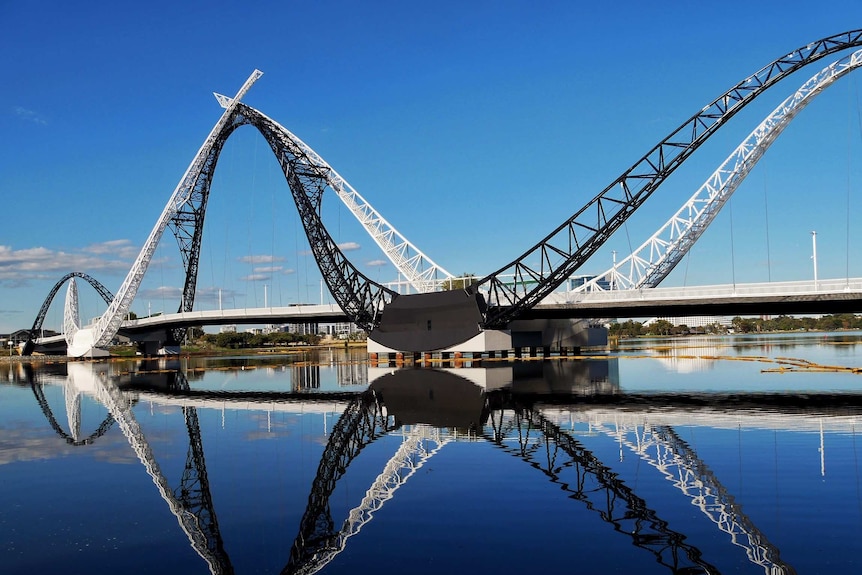 Best trail for night viewing: Windan Bridge Loop
Length: 6.2 kilometres, Grade: Ungraded, described as "easy".
This loop that skirts the Swan River in central Perth includes an option to modify and make it shorter by crossing under the dips and curves of the Matagarup Bridge. It also passes Heirisson Island, which is known for its group of resident kangaroos. The trail also passes East Perth and Optus Stadium. Robbi says there is one section that can be steep depending on the person's mobility limits and what type of wheelchair they have, but the trail is otherwise very easy and well-lit for night walks.
Best nature-viewing trail: Kuljak Island
Length: 2.6km, Grade: 1
Pelicans, black swans, herons and other water birds abound on this tranquil island surrounded by wetlands in Ascot. This trail is a favourite of Ms Flynn's for its central location and ease of access.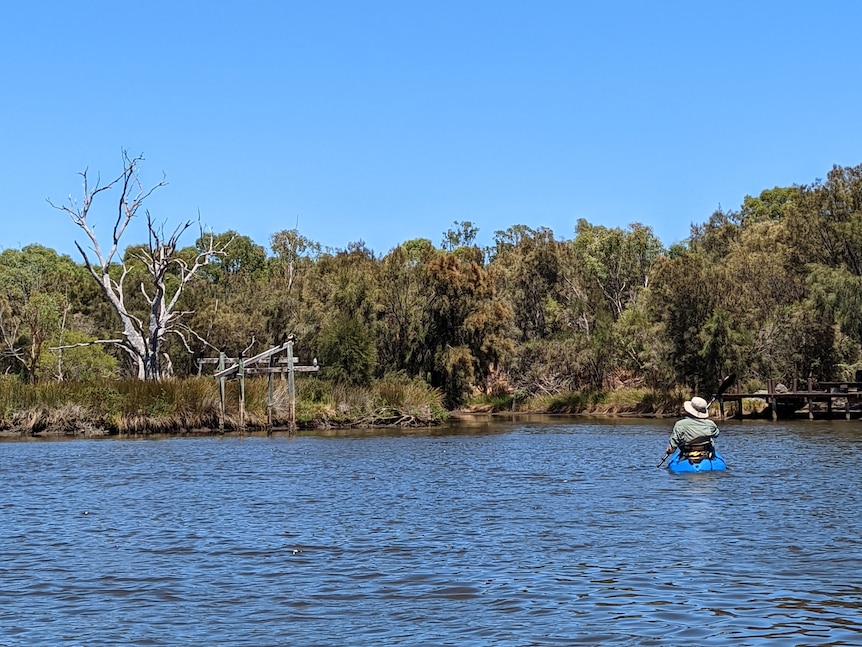 It's also quieter than some trails during the week, and a great place to go with dogs. Grade 1 trails are classified as flat, even surfaces with no steps or steep sections, and are suitable for wheelchair users who have someone to assist them. They are a maximum of five kilometres in length.
Best educational trail: Piney Lakes Reserve
Length: Optional, Grade: Ungraded
The trails at this Winthrop park wind through banksia woodlands and paperbark wetlands, with educational facilities along the way. There is a self-guided tour as well as the Bidi Katitjiny Aboriginal Women's Trail, which promotes Noongar cultural identity and history.
A ClimateWatch trail also invites people to record their observations and submit them to a database. There are also some dog-friendly areas in the reserve, which can be identified on a map of the park.
Best family-friendly trail: John George Trail
Length: 5.5 kilometres, Grade: Ungraded, described as "easy"
A scenic walk along picturesque sections of the Swan River and across adjoining creeks between the Woodbridge Riverside Park and the Reg Bond Reserve. The trail has a gravel and paved option and views of the wine region across the river. The Woodbridge Play Space, a playground and picnic area, also has play opportunities for wheelchair users and the parking area has spaces for vans with rear lifts and extra-wide bays.
Source: ABC