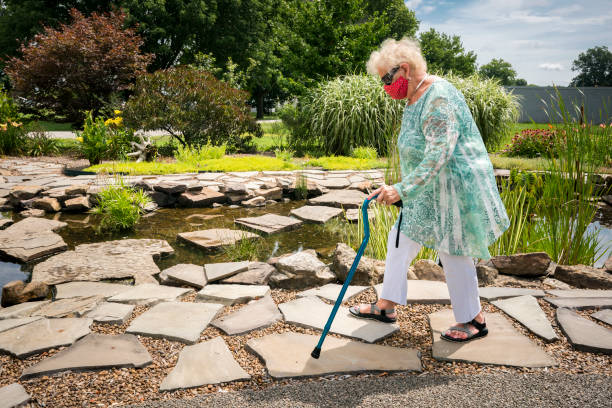 Providing additional support and stability while walking, the Ausnew offset cane centers the user's weight over the cane base for greater balance and support while reducing hand and wrist fatigue.
Fitted with a non-slip rubber cane tip, the offset cane can be used while navigating any surface. Used on either hand, the cane height is also adjustable for a comfortable, customized fit.
Introducing the Ausnew Swan Neck Walking Sticks
These can also be single-point straight sticks but come with a swan neck curve at the top of the stick up to the handle. The swan neck offsets your weight to be directly over the stick's tip for added stability.
What are the benefits?
✔️ Great for those needing a little more stability when walking
✔️ The swan neck enables the user's weight to be evenly distributed on the stick enabling better balance
✔️Swan necks can be useful for hanging up the stick when not in use.
Quad Tips
What are the benefits?
✔️ Provide increased balance, stability, and security giving the user stronger independence. 
✔️Quad tips compared to a single tip add traction to help prevent falls and slips.
✔️ Quad tips allow walking sticks to stand on their own making bending down to pick up their stick a less likely occurrence.
At Ausnew Home Care we stock a full range of Swan Neck Walking Sticks that you can view and purchase online.
For further information on any of our products please email or call (02) 9159 6183 our friendly staff who are happy to help.