A filmmaker, who lives with muscular dystrophy and hasn't left the house in 10 months, is taking the documentary world by storm with her film Living in Fear, which focuses on shielding during lockdown.
Stephanie Castelete-Tyrrell, 26 and from Northamptonshire, lives with congenital muscular dystrophy and has been unable to leave her home since the beginning of March.
Stephanie's condition causes muscles to weaken and waste over time, meaning she is classed as clinically extremely vulnerable.
The creation of

 

Living in Fear
Stephanie's documentary Living in Fear was filmed during lockdown and around her home, capturing the complex difficulties facing the disabled community and anyone who, like Stephanie, lives with a muscle-wasting condition.
The documentary reveals how Stephanie's father embarked on 40-mile round trips just to buy food, how it took her a month to adapt to new daily life and sees Stephanie detail her battle with depression amid a feeling of being forgotten by society.
The documentary will be kept in festivals until early 2021 before Stephanie tries to secure a distribution deal.
Stephanie, who owns Four Wheel Drive Productions, felt inspired to show the outside world her experiences of lockdown.
The 96-minute documentary features interviews and video diaries of participants – which includes an appearance by me (Emma Purcell) – as they reveal how isolation affected their well-being.
Stephanie's own daily video diaries discussed her emotions and fears as lockdown continued.
She worked without a crew and took on writing, recording and editing responsibilities, filming herself using a camera installed on her adapted chair.
While these were skills Stephanie had mastered in her undergraduate and postgraduate degrees, this was her first solo project and took four months from start to finish.
 Living in Fear

 

award success so far
Although not yet released to the general public, Stephanie's documentary has clocked up a string of award wins.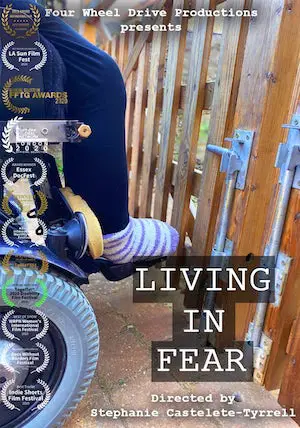 She most recently won the prestigious Jury Award in the Disability Category at EssexDocFest – a national showcase for upcoming independent talent in the sector.
Judges heaped praise on Stephanie's documentary.
"It tells a personal story with conviction and openness and captures a unique experience of the world at a time when people are facing great challenges.
"It is direct in its approach while surveying a limited and intimate space – mainly shot in the home – but communicates a broader message about disability and coping with extraordinary circumstances."
On Tuesday 8th December, it was also announced Living in Fear won a tenth award at the Together Disability Film Festival, in which Stephanie won £100 to go towards her Crowdfunding campaign for her next project.

Living in Fear

 

selected at the London Lift-Off Film Festival 2020

Stephanie is proof that courage in the face of adversity reaps awards – not only is this her ninth win as a film and documentary maker in 2020, Living in Fear has been selected for Pinewood Studios' highly-respected London Lift-Off Film Festival.

The festival runs throughout the month of December. Audience members are a vital part of the judging process and vote for their favourite film, contributing to judges' final decision.

Stephanie said: "The EssexDocFest win is a hugely important award for me, especially this year and because of difficulties we could never have foreseen."

"I wanted to make sure people's voices were heard and that the disabled community would not be forgotten."

"I am really excited that my documentary has been shortlisted at the London Lift-Off Film Festival – please vote for me to show your support!"

Source: Disability Horizons