For the first time in the award's 62-year history, a person with a visible disability has been named Australian of the Year.
Dylan Alcott, a 31-year-old athlete, Paralympian, philanthropist, media commentator and advocate, has received the prestigious award for achievements in both his sport and his disability awareness work.
Alcott began his athletic career in wheelchair basketball, then switched sports to tennis. He now has 23 quad wheelchair grand slams and a Newcombe Medal, and is the first male in history to win a Golden Slam in any form of tennis.
But Alcott's sporting achievements are not the main reason he was named Australian of the Year, he is also being recognised for his work uplifting Australians with a disability.
He received an Order of Australia medal in 2009 for services to sport, and in 2017 he founded the Dylan Alcott Foundation to provide scholarships and grant funding to marginalised Australians with a disability.
In the same year he co-founded disability and accessibility training start-up Get Skilled Access.
He organised AbilityFest, Australia's first and only inclusive, fully accessible music festival, and wrote his best-selling autobiography Able.
Alcott's achievements do not end with his advocacy, he is also a philanthropist, and in 2014 set the world record for the longest continuous playing of wheelchair tennis – 24 hours non-stop – to raise funds for The Starlight Foundation and the Children's Charity.
He received an Order of Australia in 2009 at just 18 years of age, was named GQ Sportsman of the Year for 2016, and 2016 Paralympian of the Year.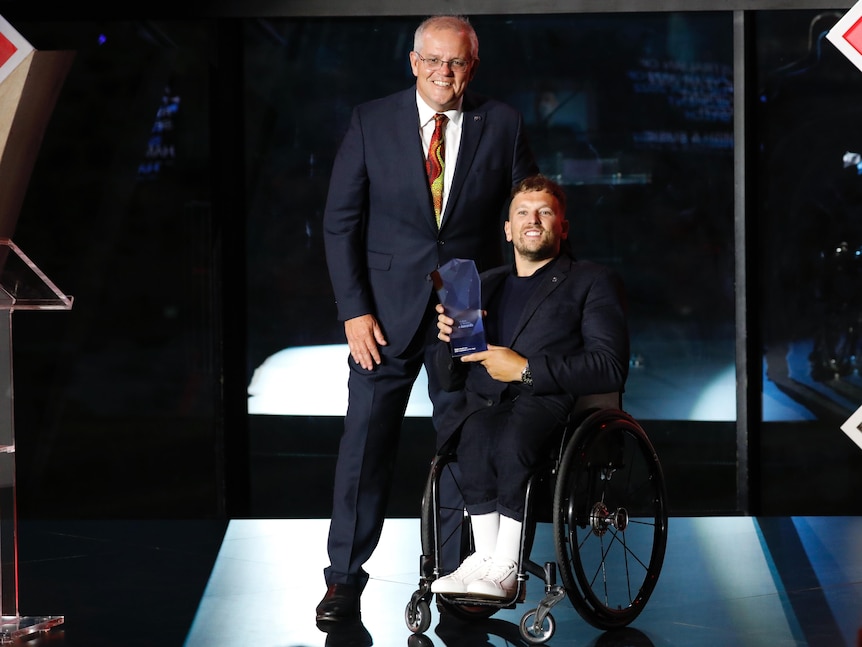 In his acceptance speech, Alcott said that, as a teenager, he hated using a wheelchair because he didn't see anyone who looked like him in the mainstream media.
"I've been in a wheelchair my whole life … I've known nothing but having a disability," he said.
"If I'm honest with you, I can't tell you how much I used to hate myself. I used to hate having a disability. I hated being different.
"And, whenever I turned on the TV or the radio or the newspaper, I never saw anybody like me. And, whenever I did, it was a road safety ad where someone drink drives, has a car accident and what's the next scene? Someone like me in tears because their life was over.
"I thought to myself, 'That's not my life', but I believed that was going to be my life. But I'm so lucky that I had one of the best families, some of the best friends, my beautiful partner and my whole team who told me that I was worthy.
"I'm honestly so honoured to be up here and it's because of them and everybody in my life that I sit here as a proud man with a disability tonight."
While accepting his award, Alcott made light of the crowd's standing ovation.
"I think standing ovations are one of the most ironic things in the world, by the way. But I'll take them, without a doubt," he joked.
He said he also didn't believe he was in with a chance for the top award, but the "really good-looking ramp" at the award ceremony at the National Arboretum in Canberra made him think he might stand a shot.
"The last two years have been so tough on so many people and I feel honestly ridiculous being here," he said.
"To our front-line workers, our nurses, our doctors, people running our vaccines, ambulances, firefighters, you deserve this much more than a guy who hits tennis balls and loves talking. I really mean that. It's such a huge honour."
Alcott also paid tribute to 2021's Australian of the Year Grace Tame.
"Tame, you are fierce and I love it," he said.
"You have done so much for your cause and if I could be one-eighth of the Australian of the Year that you were, I think I've done my job.
"When I won the US Open I skolled a beer out of my trophy and you said, 'If I got to pass the mantle over to this guy, I'd be honoured. But we have to skoll the beer together'. Give me a couple of days and then we can do it. Not just yet."
St John Ambulance volunteer who helped communities through the Black Summer fires named Senior Australian of the Year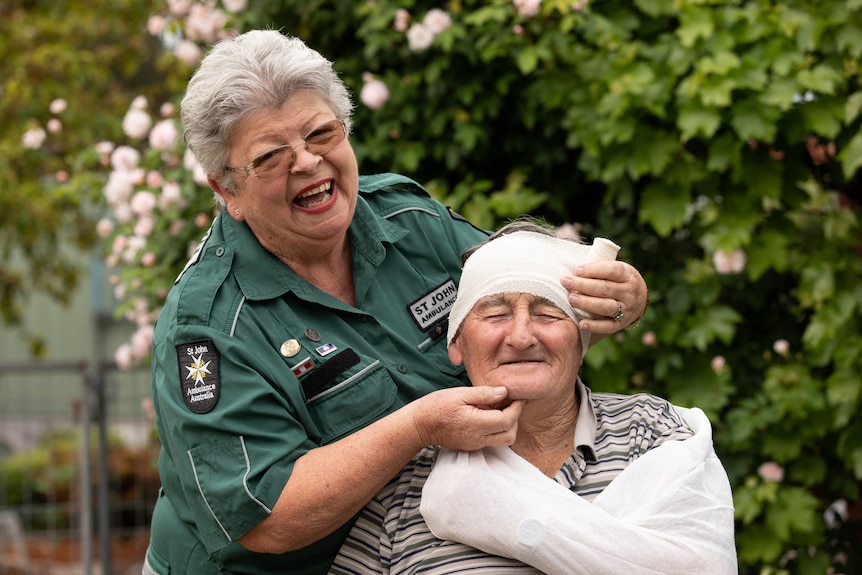 One of the Australian Capital Territory's longest-serving volunteers with over 50 years of dedication to St John Ambulance, Valmai (Val) Dempsey has been named Senior Australian of the Year for 2022.
Ms Dempsey began as a cadet volunteer with St John Ambulance in primary school and, half a century on, she still dedicates more hours than any other volunteer.
She is a mother of two, grandmother of six and great-grandmother of one, but she is considered family by many volunteers who affectionately call her "Aunty Val".
Ms Dempsey led 40 volunteers to support communities affected by the Black Summer bushfires, and personally got in contact with every member of the St John Ambulance team to offer support through the COVID-19 pandemic.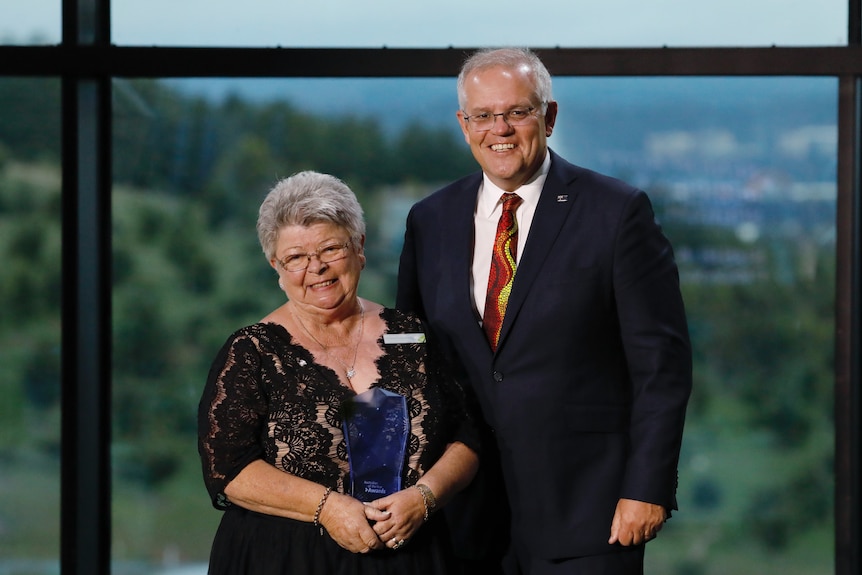 National Australia Day Council chair Danielle Roche said Ms Dempsey embodied "the Australian spirit of volunteering" through her consistent work.
"She has donated her time to the service of St John Ambulance for more than half a century, helping countless Australians," she said.
Ms Dempsey said she wanted to use her role as Senior Australian of the Year to "inspire another generation with a project that I know will save lives".
"Imagine this — don't get too scared — every learner driver in Australia undertaking compulsory first aid training as they currently do in 11 European countries," she said.
"No other single measure has the potential to educate a generation to save lives like bystander first aid does."
Ms Dempsey said her family was forever changed by a car accident more than three decades ago, where people came to help but did not know what to do.
"A very precious life was lost," she said.
"As a nation, we can rethink our approach to those critical minutes between life and death at a road accident. To make members of our community part of the solution."
Doctor who founded a mobile medical service for the homeless named Young Australian of the Year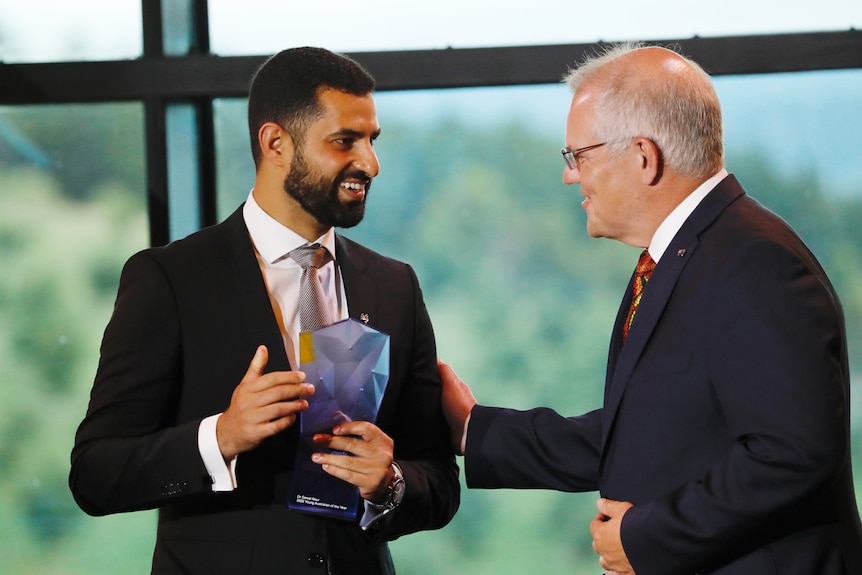 Daniel Nour was in his final year of his medical degree in London when he saw a man having a seizure at a train station. He stopped and helped the man, and later discovered he was homeless.
Dr Nour said the moment was a turning point for him, as he realised the gap in medical support for people experiencing homelessness and decided to do something about it.
He returned to Australia and, in 2020, he started Street Side Medics, a not-for-profit GP-led mobile medical service for vulnerable people in New South Wales.
For his work delivering medical support to people experiencing homelessness, 26-year-old Dr Nour has been named the Young Australian of the Year for 2022.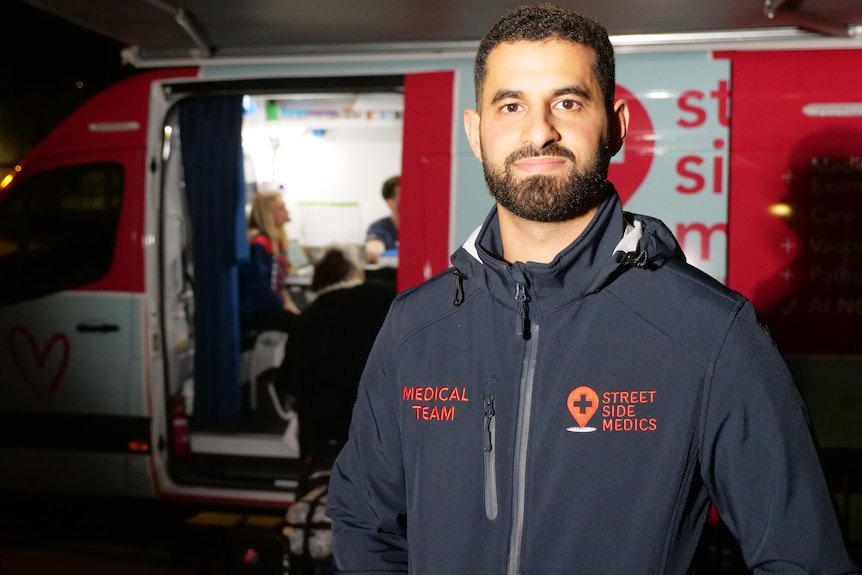 Street Side Medics now has 145 volunteers and four clinics across New South Wales, and has changed the lives of more than 300 patients by dealing with neglected medical needs and detecting conditions that would have otherwise gone unnoticed, such as cancer, HIV, diabetes, and heart disease.
"With his leadership and social consciousness, Daniel is committed to making a real difference to the lives of many Australians. He's also making significant improvements to society," the Australian of the Year awards panel said in a statement.
Despite working full-time at Sydney's Royal North Shore Hospital, Dr Nour volunteers his afternoons to ensure the four Street Side Medics sites run smoothly.
Chair of the National Australia Day Council, Danielle Roche OAM, said Dr Nour's work had helped ensure vulnerable people could receive medical care.
"Dr Daniel Nour and Street Side Medics work to make sure no Australian gets left behind, providing vital medical care and lifesaving treatment to those experiencing homelessness and who might otherwise fall through the cracks," she said.
In accepting his award, Dr Nour said many Australians living in homelessness were "suffering in silence".
"Many die of conditions which could be treated and avoid interventions which could have improved [their] quality of life," he said.
"I have seen 50-year-olds like Peter die of heart failure, struggling for a breath in the cold night air. I have seen people like 40-year-old Eddie, who's living with maggots in his wounds. I have seen people like Neil, a 29-year-old type 1 diabetic who is suffering from irreparable damage due to being unable to afford his insulin.
"As Australians, it's our responsibility to advocate for those who seem to have lost their voice and to rise up to the occasion, even when we question our own ability to do so."
'My story is not unique': Shanna Whan named Local Hero 2022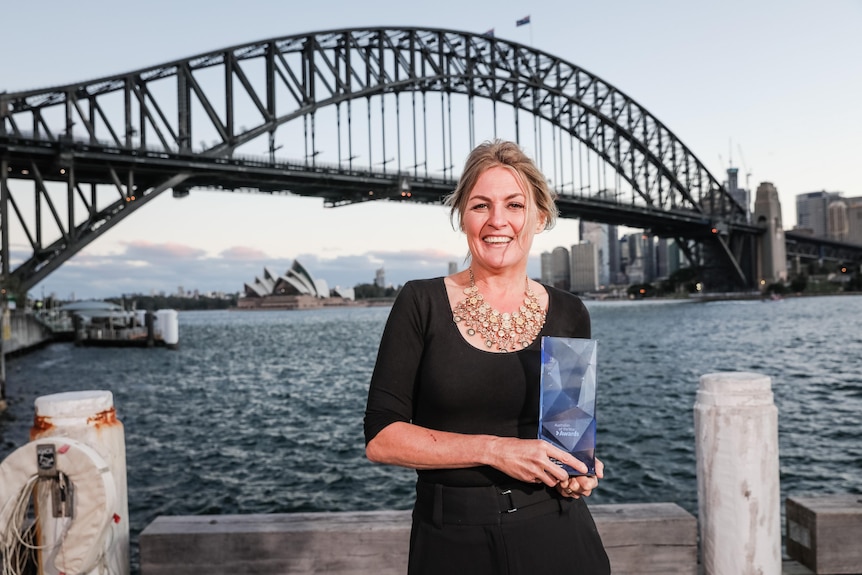 Shanna Whan has been recognised for her charity work changing the conversation around alcohol consumption in rural Australia, being named Australia's Local Hero for 2022.
When the now 47-year-old almost lost her life to alcohol addiction in 2015, she began her work spreading the message that it is "always OK to say no" to booze.
She began volunteering locally to support others struggling with alcohol addiction, and her work grew into a not-for-profit peer support group, Sober in the Country (SITC).
That work has now earned her the title of Australia's Local Hero for 2022 at a ceremony in Canberra this evening.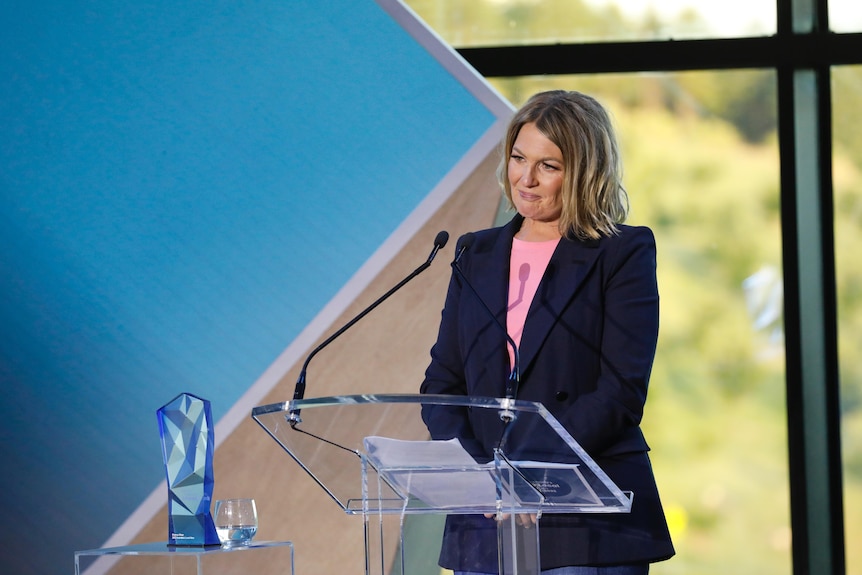 Ms Whan grew up in the country and said her childhood was positive, but a series of traumatic events when she was 18 left her afraid and unsure of how to cope.
She said being in a rural community, there were not any support groups or peer counselling available, but what was "prolific and abundant" in her community was alcohol.
Ms Whan quit alcohol with the help of a new friend who had experienced similar trials and now has taken Sober in the Country to a group with national reach that offers peer support, broadscale advocacy and education around alcohol.
She said in her acceptance speech that she shared her story because somebody had to.
"I do it because someone had to go first. I do it because somebody sharing their truth with me saved my life, and I do it because every single one of you knows my story is not unique," she said.
"Alcohol use is the silent pandemic we are not discussing, and it's a pandemic that is exploding exponentially with COVID-19 no matter your postcode."
Chair of the National Australia Day Council, Danielle Roche OAM, offered her congratulations to Ms Whan, and said her work was changing lives across rural Australia.
"Shanna is an inspiring and tireless local hero who not only overcame her own life-threatening challenges, but turned the experience into a force for good," Ms Roche said.
"Her Sober in the Country movement is changing lives across remote and rural Australia."
Source: ABC