Follow Karin O'Reilly's Instagram account and you'll learn a heap of simple hacks for successful food gardening — and possibly pick up some Australian Sign Language (Auslan) too.
Karin is a gardener, teacher and interpreter from Speewah, in Far North Queensland, who records and publishes all her gardening how-to videos twice — in English with captions and then separately in Auslan.
That's because Karin is a CODA, a Child of Deaf Adults. She grew up in a bilingual world and deeply understands the power of information presented in accessible ways for all different types of folks.
We spoke with Karin — who you might just recognise from the 1990s morning cartoon show, Cheez TV — about language, accessibility and not taking yourself too seriously online.
What is a CODA and how does that relate to your life?
Some CODA might have only one parent who is deaf, others have two deaf parents.
When I was growing up, we didn't have TV captioning, interpreters for access, social media, email, texts — all that.
I was actually trilingual, because my father was Irish — and countries have their own sign language. So, I was raised with Irish Sign Language, Australian Sign Language (Auslan) and spoken English.
For me, being a CODA is my identity — it's said that we belong to a 'third culture'.
How did your dual-language Instagram account get started?
I was home on my own for four months finishing off my PhD thesis, and I was really bored! I missed the interaction and I also wasn't signing much, except for a bit of interpreting online.
I saw it as kind of a niche space, something practical that deaf people can learn through their own language.
Not that I'm any Costa or Gardening Australia expert — I just wanted to do something light and fun.
Why do you record two versions of each gardening video — one in English, one in Auslan?
It's all about accessibility. Auslan is very visual and so has a very different grammar to English. While you can speak and sign at the same time, you're using sign-supported English or signing in English.
I didn't want to mix the languages in that way and be disrespectful, so I thought I'll do English versions for my hearing friends — with captions, so it's still accessible — and then a second version in Auslan.
Because captioning is great, but for some deaf people, English is their second or third language. So, some people struggle — their literacy may not be of the standard that can cope with captions. With Auslan, they get 100 per cent access.
Who's tuning in to learn gardening via Auslan?
The target isn't just my deaf friends and family and other deaf people. It's also CODAs — they always like and comment on the Auslan version. That's our first language and we're all more comfortable in Auslan, because it's so much more expressive.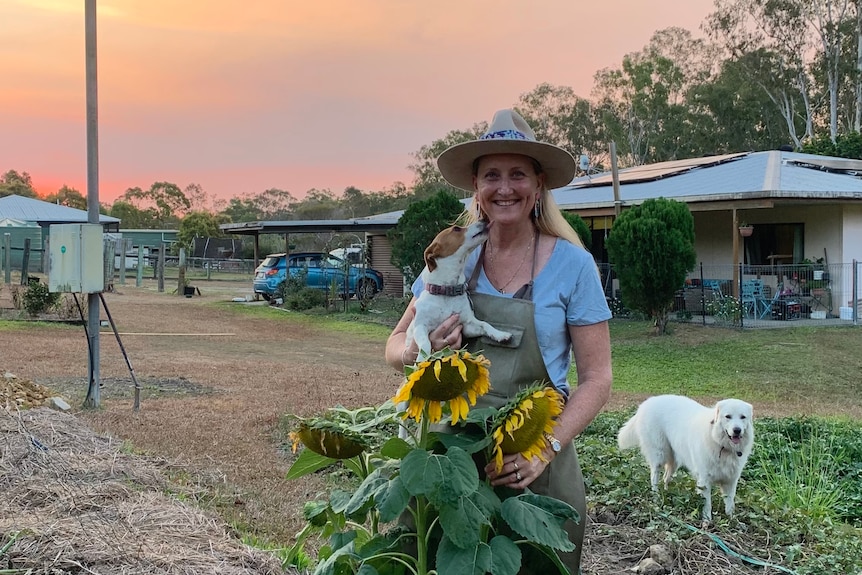 I've had hearing people joining who are learning Auslan and a few have sent messages saying: "This is really great, you've combined my two new loves – gardening and Auslan".
And deaf people send me appreciative messages, thankful that it's in Auslan and so accessible.
What sort of gardening tips are you sharing?
It's just tidbits — short, sharp and to the point. I take the piss out of myself and my husband, Trev.
He did joke with me, saying: "Karin, when you get really popular, you're going to have to start learning all your Latin plant names."
But I don't want to be the expert, I just want to keep it simple.
At our place, we've got one fenced-off section where we grow vegetables that we don't want the chickens and the dogs to run through. On the other side of the house we have our tomato row and sweet potatoes. And down the back, we're planting a heap of fruit trees, because I really want all the tropical fruits.
My husband and I always say we're not experts, we're learning. But I do now feel comfortable sharing tips about what works at what time of year, what to plant, how much to water, that kind of thing.
You appeared on Cheez TV for years — has that experience helped with this project?
Yes! So Cheez TV was a cartoon show on every morning in the 1990s, and they always had guests on.
I went on the show as a one-off sign language interpreter guest appearance, just having fun. And then they offered me a weekly spot, because they received so many handwritten letters — this was in the days before email.
I worked there for six years and I definitely think that experience has helped, just knowing how expressive I need to be.
I obviously can't speak on behalf of the deaf experience, but I can speak to my intersectionality, while sharing my love of gardening.
Koren Helbig is a storyteller who practices permaculture and grows organic food in the backyard of her small urban Tarntanya (Adelaide) home.
Source: ABC