Do you get back pain, especially when you're lying down? If that's the case, Ausnew has a pillow called the Side Snuggler Body Pillow - Side Sleeping Comfort Support Pillow that can help. These pillows are made to help people with neck, back, and/or shoulder injuries manage their discomfort.
Introducing the Ausnew 

Side Snuggler Body Pillow - Side Sleeping Comfort Support Pillow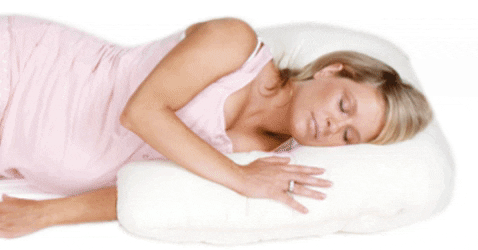 The Ausnew Side Snuggler Body Pillow is a side sleeping Pregnancy Neck Support Pillow.
One of the benefits of the Side Snuggler Body Pillow is that it helps to align the spine in a natural position while sleeping. This can be particularly helpful for people who suffer from back pain or other related issues. The pillow also provides support for the neck, shoulders, and hips, which can help to relieve pressure points and reduce the risk of developing joint pain.
Features
Deters back sleeping
Cushioned arms fully support the shoulders and deter rolling onto the back during sleep, helping to sustain the side sleeping position – the preferred sleeping position for pregnancy and the position most likely to minimise snoring.
Create your perfect pillow
Separated support zones with zip access allows you to adjust the soft polyfill for the desired height, density and feel to perfectly suit your comfort requirements. A specially angled nook cavity is designed to allow shoulders to snugly mould to the pillow's form.
Memory foam comfort with polyfill fibre support
Pressure-diffusing memory foam spans the full pillow width and blends with layers of super supportive polyfill to cradle the neck and support the head evenly for ideal spinal alignment.
Proudly Australian made & owned
Our pillows are proudly made in Australia by us, an Australian family owned and run company, using world class manufacturing and health and safety standards.
Designed by health professionals
We consult with Australian chiro's, physio's, osteo's and naturopaths to design therapeutic products that provide relief from discomfort caused by a range of health conditions.
The Side Snuggler Body Pillow offers several benefits, including:
Improved sleep quality: The pillow's unique design and support help to keep the body in a proper sleeping position, which can lead to a more restful and comfortable sleep.

Reduced pain and discomfort: The pillow provides support to the neck, shoulders, hips, and back, which can help to alleviate pain and discomfort associated with these areas.

Enhanced relaxation: The pillow's soft and comfortable materials offer a sense of security and relaxation, which can help to reduce stress and anxiety.

Versatility: The pillow can be used in a variety of different sleeping positions, making it suitable for a wide range of people with different sleep preferences.

Durability and ease of maintenance: The Side Snuggler Body Pillow is made from high-quality materials and is designed to be long-lasting. It can be easily cleaned and maintained to ensure its longevity.

Improved circulation: By aligning the body in a natural position, the pillow can help to improve blood circulation and reduce the risk of developing numbness or tingling sensations.

Reduced snoring: The pillow's support can help to reduce snoring by keeping the airways open and promoting better breathing patterns.
Overall, the Side Snuggler Body Pillow offers numerous benefits that can improve sleep quality, reduce pain and discomfort, enhance relaxation, and promote better overall health and well-being.
Reviews
For further information on any of our products please 

email 

or call 

(02) 9159 6183

 

our friendly staff who are happy to help.
Click the Button Below to Learn More