The Up & Easy Seat Assist has a gentle hydraulic action that easily raises or lowers the user to or from most any chair. This lifting cushion lifts 70% of the user's body weight to help make standing up or getting up from a chair or sofa much easier. 
This portable and economical lifting seat is perfect for those who need help to stand. It activates automatically as the user stands, lifting up to 70% of their weight up to 135kg. It is fully self-powered and does not require electricity, instead of using a hydro-pneumatic gas spring. 
The patented LeveLift Technology ensures a gentle and safe lift without pushing you forward. The 100% polyester cover is fully washable and the polyurethane foam cushion is easy to care for.
Seat Assist requires no electricity to operate, and so is convenient to take everywhere you go.
Who Can Benefit From Lifting Seats?
Those who are able to safely walk on their own, with or without a walking aid, and once standing are active at home or in the community.
FEATURES & BENEFITS
✔️ Safe
The flexible seat curves to a flat surface that lifts you up on a level plane. This patented LeveLiftT design provides for a safe lift up, with no forward dumping motion.
✔️ Durable
The injection-moulded base is made of durable polycarbonate and covered with a non-slip material that prevents shifting on fabric seating surfaces.
✔️ Washable
The marine blue fabric cover is made of 100% polyester and is machine washable in cold water.
✔️ Easy Care
The foam cushion has a water-resistant coating that can be wiped down with mild soap and water
✔️ Self-Powered
A hydro-pneumatic gas spring serves as the lifting mechanism, releasing automatically when you begin to stand. No battery or electricity required.
✔️ Portable
When the lifting mechanism is disengaged, the lifting seat folds flat for easy transport. 
✔️ Easy to Use
Note: Product should not be used on the seat of a wheelchair.
Item Dimensions: 4 x 17 x 19 inches
How to Use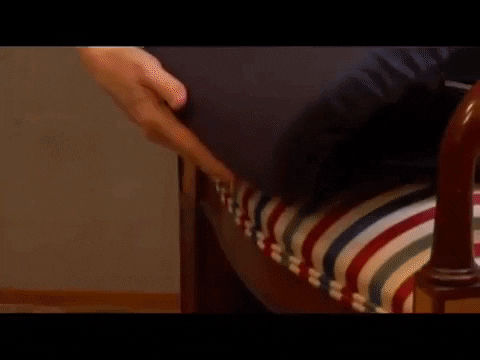 Step 1. Make sure you have something to hold on to when getting up. Up&easy Seat Assist is designed for use on chairs with arms that offer a stable seating surface. Up&easy is not recommended for use in wheelchairs, automobiles, reclining chairs or office chairs with non-lockable wheels.
Step2. Always make sure that the chair your Up&easy Seat Assist is used on will not slide along the floor. When in doubt, place the chair with its back against a wall or other fixed object.
Step 3. When bending over to pick something up, do not put any weight on your feet — otherwise, the Up&easy will start to lift you.
PLEASE NOTE: If, after setting your UPEASY to the proper weight setting, the cushion does not go down when you sit on it, the lifting mechanism may be stiff from prolonged inactivity. In this case, simply set the weight setting at the lowest level, and sit on the cushion a few times until you feel it moving freely again. Then reset for your weight.
Up & Easy Seat Assist is a great solution for people who need assistance to sit or stand due to insufficient upper or lower body strength. 
Those who have lost mobility as a result of:
Arthritis
Parkinson's
Muscular dystrophy
ALS (Lou Gehrig's disease)
Post-operative conditions
Degenerative joint disease
Ausnew Home Care is your go-to source. We offer Up & Easy Seat Assist  for purchase, so visit the Up & Easy Seat Assist  product area to get the Up & Easy Seat Assist you need quickly and easily. 
For further information on any of our products please email or call (02) 9159 6183 our friendly staff who are happy to help.