At times the elderly may have to face the reality that certain mobility aids are necessary not just to assist with movement but also as a preventative measure to avoid falls. A walking stick,  also referred to as a walking cane, is probably the most basic yet highly versatile mobility aid. 
It is primarily used to assist with balancing, improve stability and at times even reduce the pressure that may be causing pain. Most walking sticks are thought of to be a straight, long stick either with a straight or curved handle but there are actually various different types depending on the individual need of the user. It is not the only type of mobility aid or ambulatory device but is among the most flexible, least cumbersome, and easy to use.
Introducing the Ausnew Walking Stick
             
A walking stick or walking cane is a device used primarily to aid walking, provide postural stability or support, or assist in maintaining a good posture.
Walking sticks are used by elderly users to provide support in their old age while walking. It protects the users from falling, resulting in severe injuries such as pelvic bones or broken hips. The poles are generally designed to help the customers to maintain mobility and balance.
Benefits of Walking Stick
✔️ Ability to walk independently
✔️ Provide extra support
✔️ Keep your posture correct and reduce back pain
✔️ Best way to get you moving again
✔️ Ensures you can get from one place to another and eliminate the risk of falling
✔️ Control of your mobility and have more options when living independently
✔️ Decreasing weight on a leg
Which walking stick is right for you?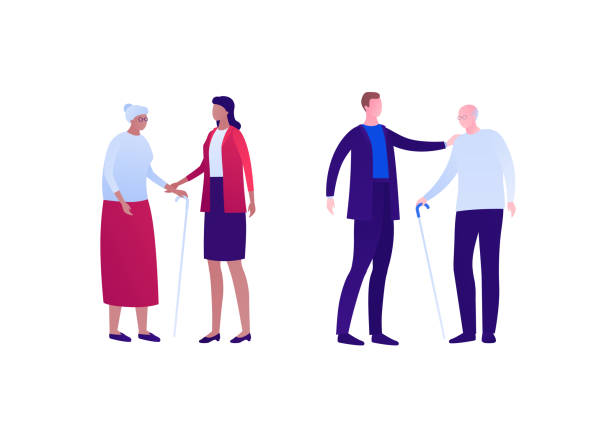 When it comes to choosing a walking stick a lot of people don't give it much thought, but to get the most benefit from a walking stick it needs to be suited to you, and your needs.
Walking sticks are ideal for assisting with balance and decreasing weight on a leg. They can aid walking after an injury, surgery or disability; and are great for people who need that little bit of extra support. Walking sticks can also indicate to others that you might need a bit more space as you walk.
Handle material and shape
Walking stick handles are most often made from either foam, rubber, plastic, or wood. Wood and plastic options provide greater durability. Whereas foam and rubber handles can offer more comfort if you experience pain or arthritis in your hands, or have trouble grasping with your fingers.
The handles come in varying shapes including t-shaped, offset, swan neck, and crook. When choosing a walking stick consider the handle size too. Something too small can give an insufficient grip.   
Straight walking sticks
These are standard, single-point sticks that usually have a crook handle or T-shaped ergonomic handle. They're usually made of aluminum or wood. Most of the aluminum styles are height adjustable and some fold up. Straight walking sticks are best suited for people who are looking for a bit of support or balance or have a slight walking impairment.       
Folding walking sticks
If you only need a walking stick occasionally, having one that can fold up and be stored in your handbag, drawer, or glove box can be quite convenient. Folding sticks come in a range of bright colors and designs. Pick the one you love or have several ones to match each outfit! They typically fold into four sections and then spring into shape when released from their bag. Folding sticks are also height adjustable.
Offset/swan neck walking sticks
These can also be single-point straight sticks but come with a swan neck curve at the top of the stick up to the handle. The swan neck offsets your weight to be directly over the stick's tip for added stability. 
Quad Walking Stick
        
Quad sticks come with four separate tips at the base, they have an offset swan neck handle, and can remain standing when you let go – which can be a real lifesaver for some. Quad sticks are available in a large or small base and provide more support than a standard straight stick.
Keep in mind though, due to the size of their base, quad sticks can be a potential tripping hazard. Quad walking sticks are suited for maximum weight-bearing, balance, and control 
The Ferrule
The ferrule is the rubber foot found on the bottom tip of the walking stick. The ferrule should provide a good grip and carry your weight without losing its shape.
Check the ferrule on your walking stick regularly as it will wear with use and need replacing. A worn and bald ferrule will have lost its grip making the walking stick unsafe.           
At Ausnew Home Care we stock a full range of walking sticks that you can view and purchase online.
For further information on any of our products please email or call (02) 9159 6183 our friendly staff who are happy to help.