In just three months, Brad Murray's life has turned around, and all it took was a weekly drive to the doctor.
"[I was] struggling to get out of bed and having to ask my wife to wait on me hand and foot," he said.
"Now I've got a bit of independence back and I can take my kids out."
Mr Murray is one of 150 new clients of the Royal Flying Doctor Service (RFDS) community transport program, which launched six weeks ago in the west Victoria town of St Arnaud. 
Thanks to volunteer drivers, Mr Murray attends regular specialist appointments in Ballarat, 130 kilometres away, and is up to date with his medication.
"They've changed my life," he said of the volunteers.
Mr Murray's medication prevents him from driving himself, and taking the one daily bus from St Arnaud "would be virtually impossible otherwise," he said. 
"I'd have to sleep on the street in Ballarat … and it's nice and cold in Ballarat."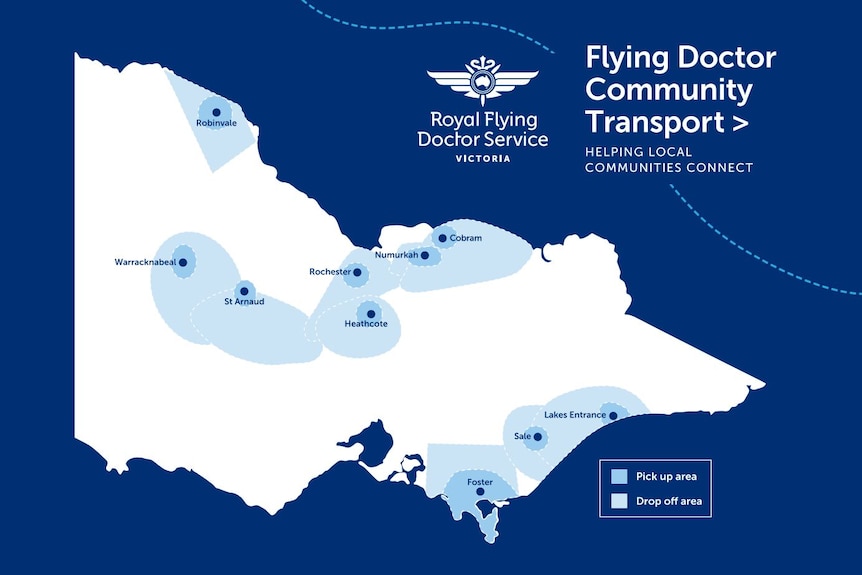 Missed appointments
RFDS program coordinator Hayley Wallace has overseen the rollout of eight community transport services across regional Victoria in the last year. 
In just 11 months, volunteers for the Warracknabeal service have driven more than 100,000 kilometres for elderly and disabled clients. 
"Our public transport system simply does not meet the needs of communities that are really lacking in connection," Ms Wallace said.
"Services like ours are so important in helping people attend those medical appointments that they would otherwise simply not attend."
Missed appointments are a persistent and significant problem for healthcare providers nationwide, with rates of non-attendance estimated at between 6 and 12 per cent, with Indigenous Australians and rural referrals over-represented.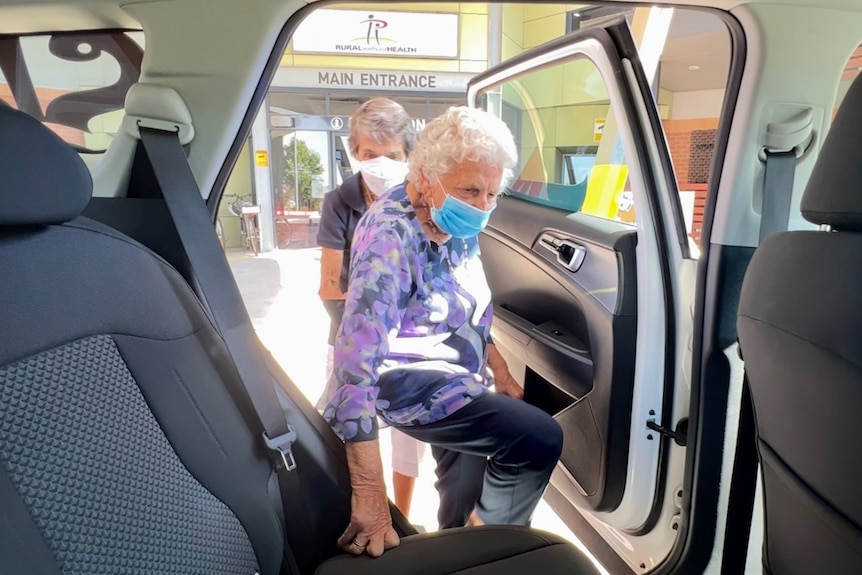 Only scratching the surface
Retired farmer Phillip McRae is one of 16 volunteer drivers for the St Arnaud community transport service.
He works an average of two days a week ferrying patients in the RFDS' lone vehicle in the town.
"It could be four or five hours on some occasions. The closer [appointments] are probably an hour and a half," he said.
RFDS St Arnaud coordinator Helen McRae said the office needs "four cars in the next 10 to 12 months at the latest" to meet demand for patient transport in St Arnaud and surrounding communities. 
"We're really only scratching the surface in terms of meeting that need," Ms Wallace said.
"Community transport is not funded here in Victoria.
"It does not sit with the Department of Transport or the Department of Health, so nobody wants to take ownership of it."
Under the Victorian Patient Transport Assistance Scheme (VPTAS), regional patients can claim up to $20 per 100 kilometres for specialist appointments, and $45.10 for overnight stays. 
However, the scheme does not account for finding or paying drivers for patients who are unable to drive. 
Similarly, non-emergency patient transport is only available to patients who require clinical monitoring during transport on a one-time basis. 
"VPTAS isn't fit for purpose for many communities," Ms Wallace said.
"It requires out-of-pocket expenses that many people of pension age or on low incomes simply couldn't afford in one hit."
A Department of Health spokesperson told the ABC: "All Victorians deserve to get the care they need, wherever they live, and there is a range of transport options available right across the state."
Source: ABC