Mia Hamm picks up the ball down the right wing, cushioning it perfectly on the pillow of her right foot.
The legendary US women's national team striker looks up, scanning the far side of the pitch for a teammate to pass to.
The scores are locked at 0-0 and the clock is ticking down.
Finally, after what feels like an eternity, she spots someone: a flash of pink charging down the middle towards the unguarded goal, surrounded by flailing defenders in blue.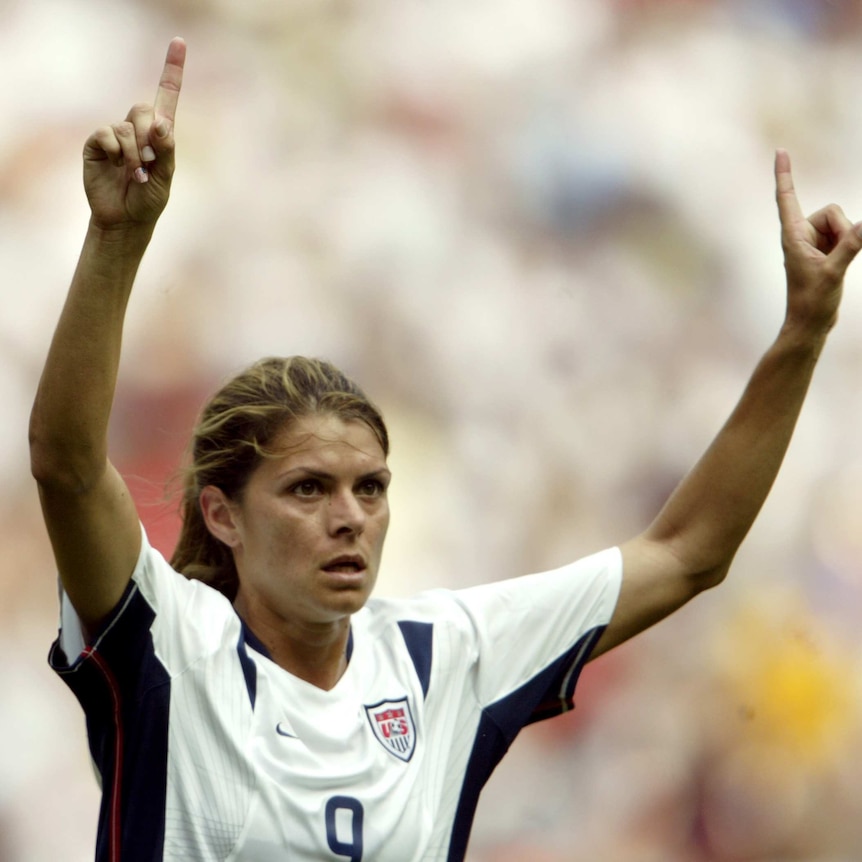 Hamm threads her pass through the tangle of legs, the ball arrowing right to where she intended. But in the chaos of the moment, her teammate shins it just beyond the post.
The small crowd of parents scattered across the silver benches watches the ball spin wide of the miniature goal and lets out a dramatic "ooh!"
This is no Women's World Cup final, but for Hamm, one of the most famous players in the history of football, this drizzly afternoon on the grounds of a Sydney school is just as important.
She's here volunteering with the PINK All Abilities Team; a program run by North West Sydney Football designed for women and girls with disabilities.
PINK (which stands for Play, Interact, Network, Kick) was founded more than a decade ago by former Australian national team goalkeeper Kim Schaefer and close friend and teammate Leisl Stimpson, a program manager with Special Olympics Australia.
It has since seen dozens of players come through its 10-week courses, and is one of countless grassroots football initiatives being run across the country to coincide with the 2023 Women's World Cup.
Like all those programs, PINK is preparing to capture the wave of interest that the tournament has already begun to generate.
"We really try to focus on developing not just the physical skills but also their confidence and their social skills, their communication, and their problem solving," Stimpson told ABC.
"The parents are a very close network, and they're your best ambassadors for the program. If they see something working well, they talk to their friends.
"We haven't really tried to market it or promote it … but as soon as people come, they love it. All our coaches are female, which also helps.
"But the best ambassadors are the under-12s teams who don't have a disability joining in, because for most of them, they've never interacted with someone with a disability before. Almost every time, we get an email from someone saying, 'Thank you for opening up a conversation with my daughter about this.'
"It's just a really beautiful way to bring people together, to promote inclusion, and to not have judgement towards those who are different."
Last weekend, PINK set up a clinic at the Presbyterian Ladies College in Croydon. And through an informal network of former national team legends, it managed to snag some of football's biggest names to set aside an afternoon to help out.
Hamm, a two-time Women's World Cup winner and Olympic gold medallist (so famous back home that she even has a Barbie modelled on her) was one of them, alongside her former teammates Joy Fawcett and Mary Harvey.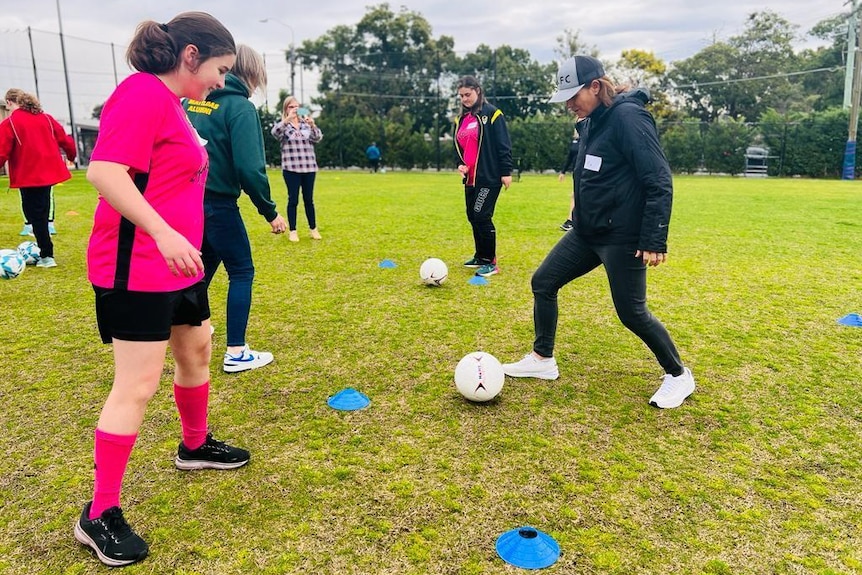 They were joined by some famous Australian faces, too, including two current ParaMatildas — Nicole Christodoulou and Rae Anderson — and former Matildas including Moya Dodd, Renae Isereif, Carol Vinson, and Leigh Wardell.
The clinic itself was no different from a regular training session; some warm-ups and stretches, some passes and quick touches of the ball.
But there was something surreal about these World Cup winners and Hall of Famers playing a game of "rob the nest", racing each other to steal footballs from hula hoops, coming up with secret handshakes with their PINK partners, and fake-wrestling with the Matildas alumni for possession during a mini-game.
These are players that millions of people have watched perform on football's biggest stages, under its brightest lights. They sang the anthem in front of record crowds and lifted its most coveted trophies. Their faces were on posters and magazine covers, their names etched forever in silver and gold.
Yet here they were, on an overcast afternoon, dressed in unsuspecting sneakers and jeans, stripping back the ceremony and the celebrity to distil the game to what it has always been: opportunity, community, and joy.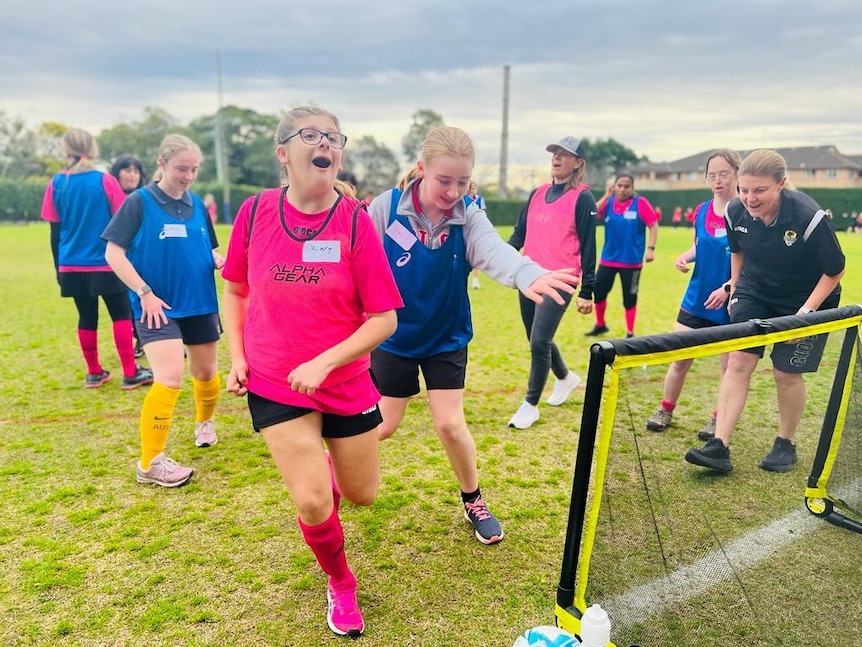 "To me, it's all about time; how important it is just spending time with people," Hamm said.
"That can mean more than money or support. Just being out here and spending the time.
"For all these former players, [it's important] what they're continuing to do for their communities, to give back to the game.
"We talk about it. It's one big women's soccer family. So to be able to support them and all the good they're doing here is fun.
"I run a camp with a couple of former players, and we love staying in the game and sharing our love and passion with young players. What's important for them to realise is we were just like them.
"It's just the time we're able to spend to tell them that they matter; that this game, in the end, is about joy and fun and friendship."
The word "legacy" has been used a lot in the build-up and throughout this Women's World Cup, from Football Australia's own "Legacy '23" plan to the Matildas' desire to leave the game in a better place than when they found it. 
But among the record crowds and broadcast booms, the packed-out public squares and sold-out merchandise, there are the other, smaller legacies that this Women's World Cup is leaving: brief moments of connection that can change the course of someone's life.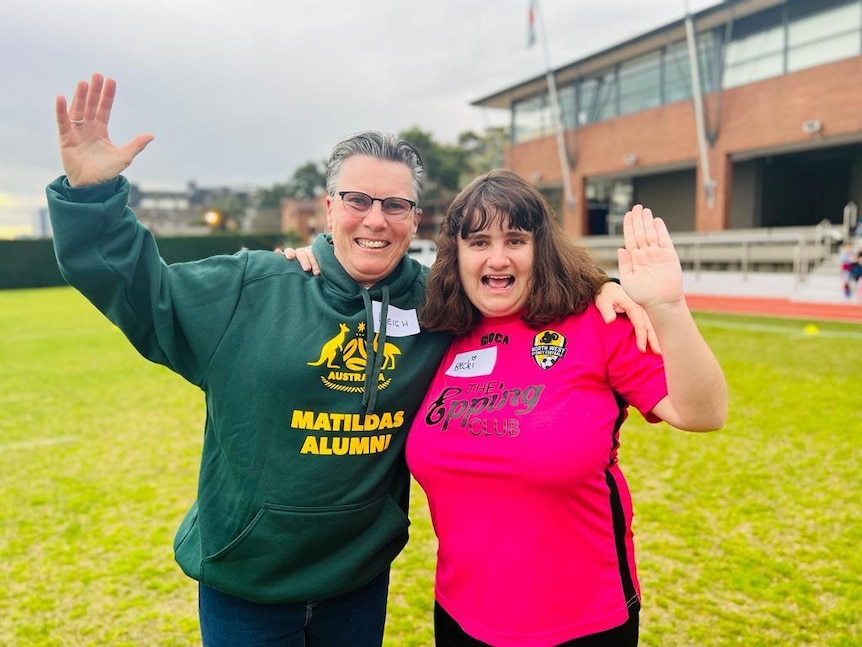 Fawcett knows a lot about legacies, big and small.
She was part of the USA team that won the first-ever Women's World Cup in 1991, and the first (and, currently, only) squad to lift a World Cup on home soil — in 1999 in front of what remains the biggest-ever crowd for a women's sports event (90,195 people).
An entire generation of current US players cite her famous "99ers" side as their inspiration growing up; the people who gave shape and colour to their dreams.
But it's the everyday legacies that Fawcett cares about most. Since retiring almost 20 years ago, the defender has stayed involved with the grassroots game, running her own all-abilities programs back home. These days, she coaches the US women's national deaf team.
Fawcett was partnered with Zoe, a young woman with purple shoes and white clips in her hair. The Hall of Famer knows that the smallest moments can sometimes have the biggest impacts.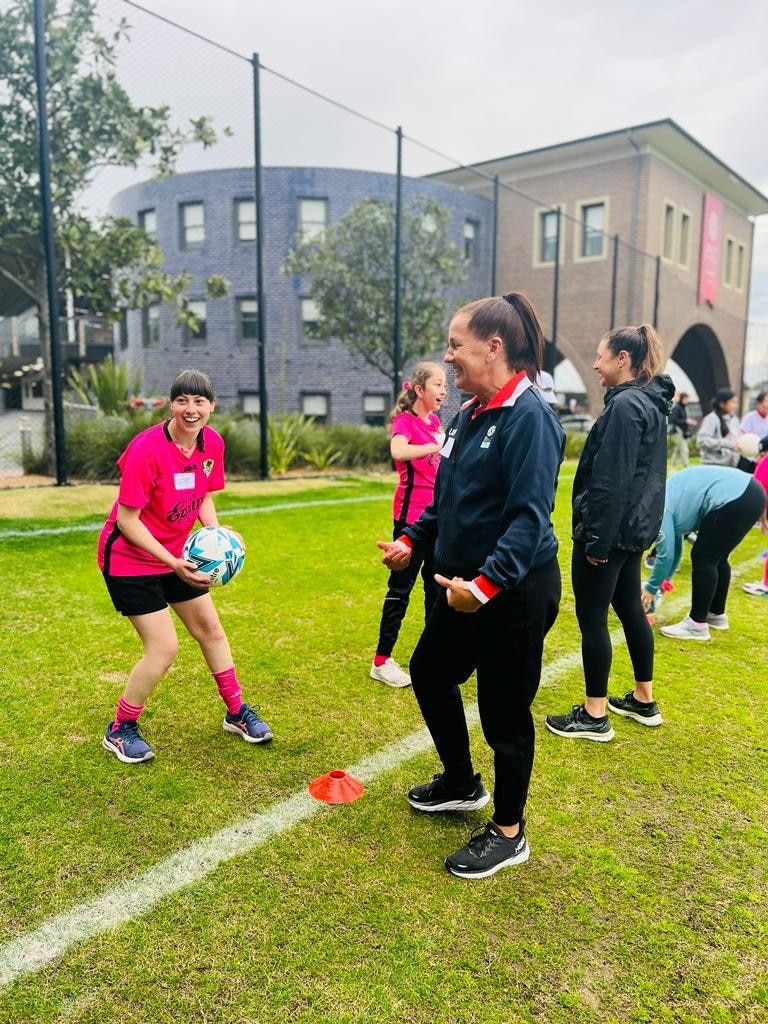 "This is my favourite part," she said.
"Getting out in the community and connecting with people and inspiring young players to take it to wherever they want to go.
"This is what I love about soccer. I was talking about it with Zoe. Anyone can play. You don't need to be a great player, just get out there and kick the ball and have fun. That's what it's about.
"The game itself teaches you so many life skills that you can use off the pitch as well, so it's great for any age, any ability. It's great for everybody. And I love seeing that they have access here."
Earlier in the day, Christodoulou, who represented Australia at the first CP Women's World Cup in Spain last year, spoke to the room about her story. She had a stroke when she was 21 years old and thought that would be the end of her footballing dreams.
But emerging All Abilities programs such as PINK showed her she can still pursue her passion, represent her country and make an impact. She was proof of the big legacies a small opportunity can leave.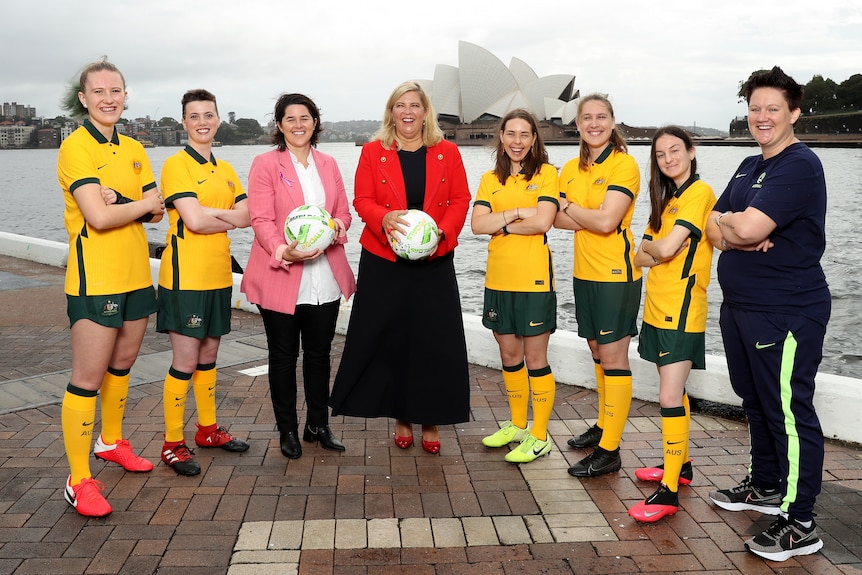 "I was where you are today," she told the rows of starry-eyed players in front of her. "And now that you can see it, you can be it, too."
At one point, a young girl from the college detached herself from an activity and came over to the benches, mumbling through tears that she didn't want to play anymore. 
Christodoulou, a high school teacher, approached the silver seats where the student was hiding in the arms of her father. She listened patiently, acknowledging the student's feelings, then gently took her arm and said, "Come on, we'll do it together," and led her slowly back across the grass.
"This is why you do it, right?" Harvey said before disappearing off into the crowd of squealing players, ready for the next activity.
"This is the stuff that feeds the soul."
Source: ABC